F230 vertical take-off and landing fixed wing is a cost-effective, easy-to-use drone, with 2300mm wingspan, specially designed for mapping and survey.
The whole machine is made of composite carbon fiber and glass fiber materials, with light weight and high structural rigidity, which makes the flight more stable while the smooth surface is reducing the wind resistance. T-shaped tail layout increases the lift capacity of F230. Quick assembly design, easy to complete assembly and disassembly without any tools, one person can complete assembly in one minute.
Equipped with Here+ RTK base station (optional), F230 can achieve centimeter-level positioning accuracy. The GPS module is installed on the rear wing, away from the high current of the airborne, to reduce interference. F230 adopts professional customized propulsion system with a powerful driving force. The ESC module of the fixed wing is installed on the outside, and the heat dissipation effect is better. The MTOW (maximum take-off weight) can reach up to 8.2kg, and its endurance is up to 120min with 1kg payload. It can withstand a maximum wind speed of 7.9 meters per second, and can perform air missions in various complex environments. Meet various commonly used aerial survey cameras.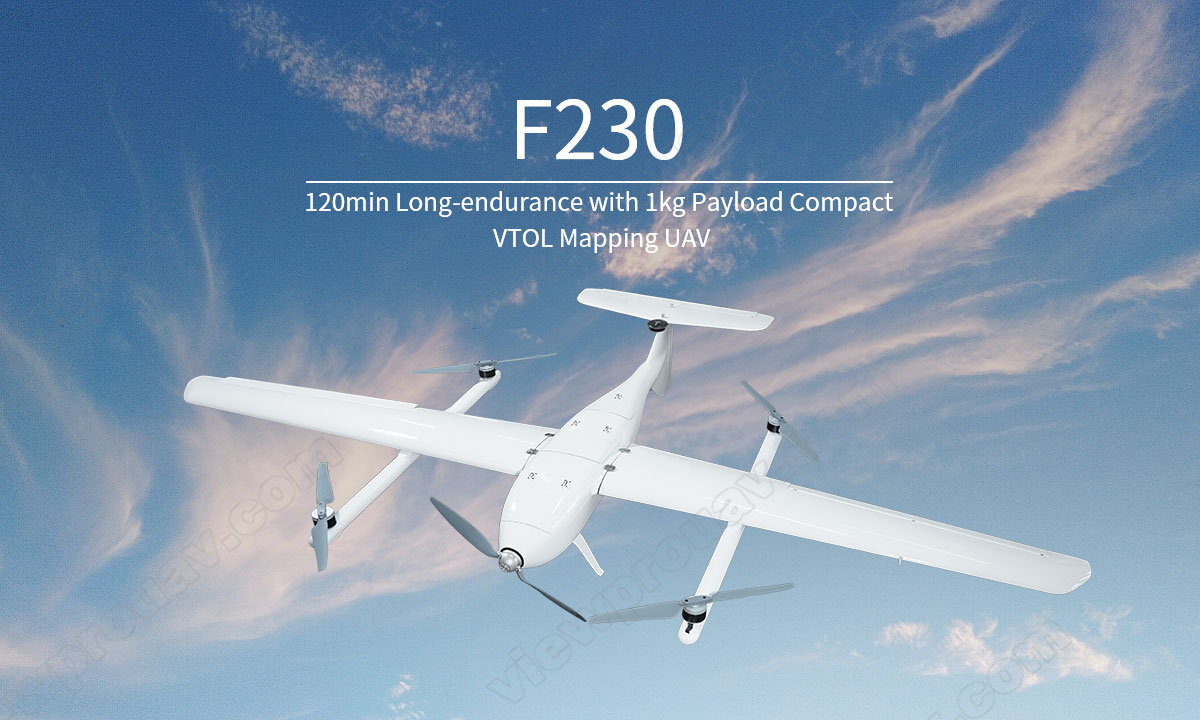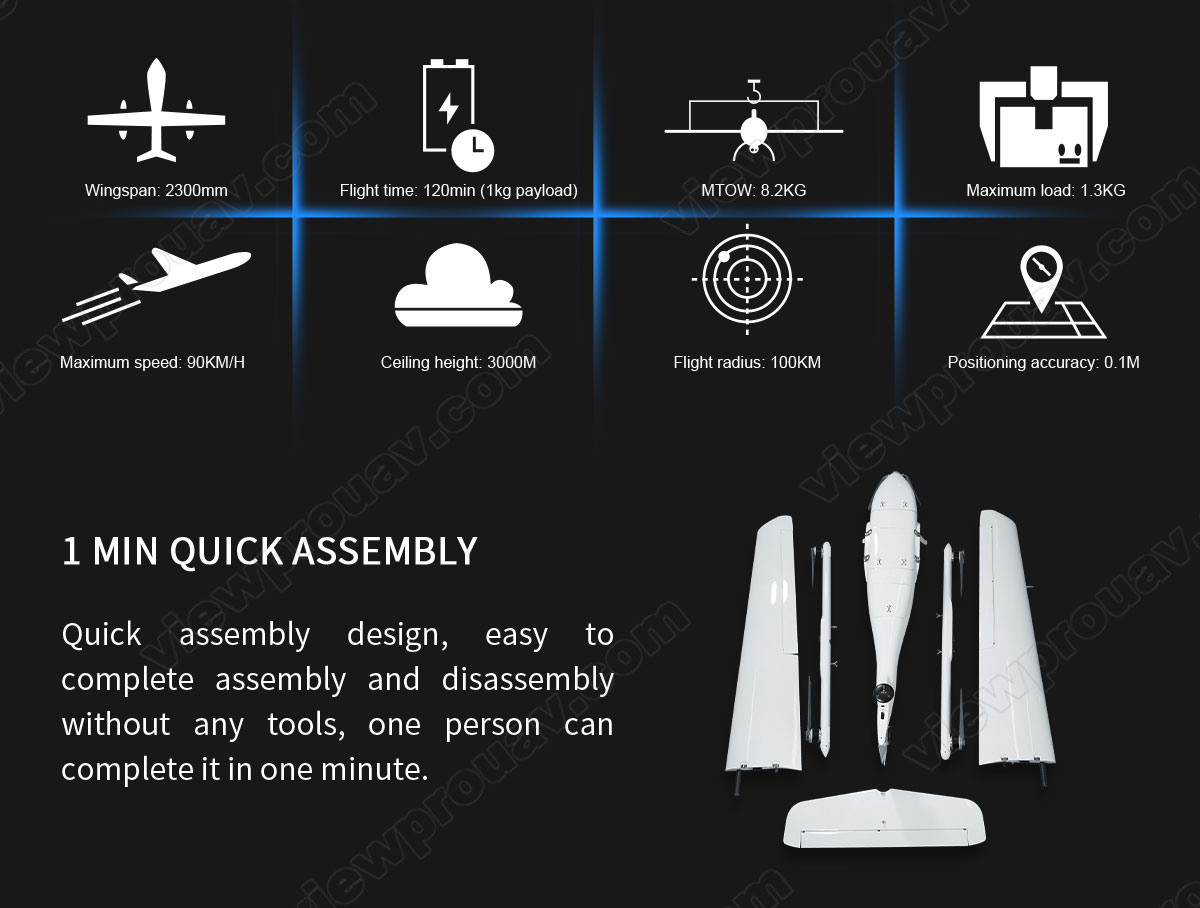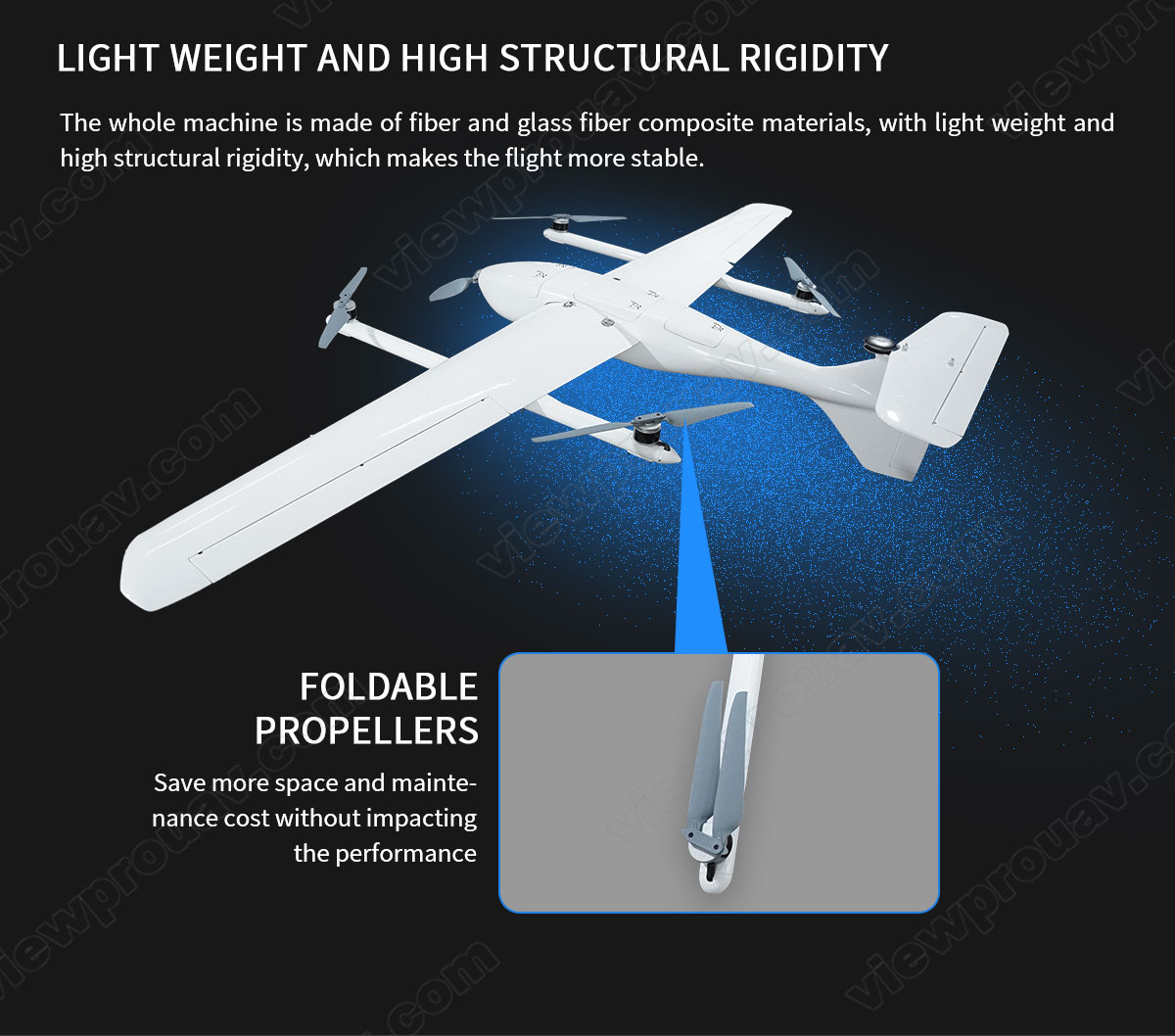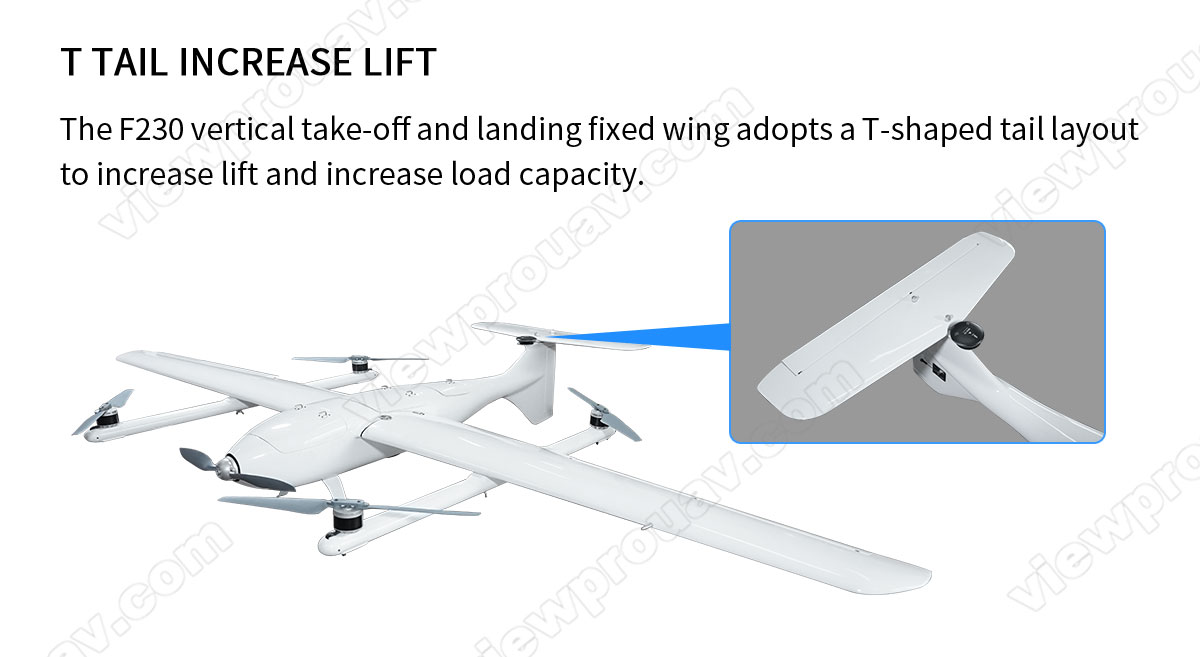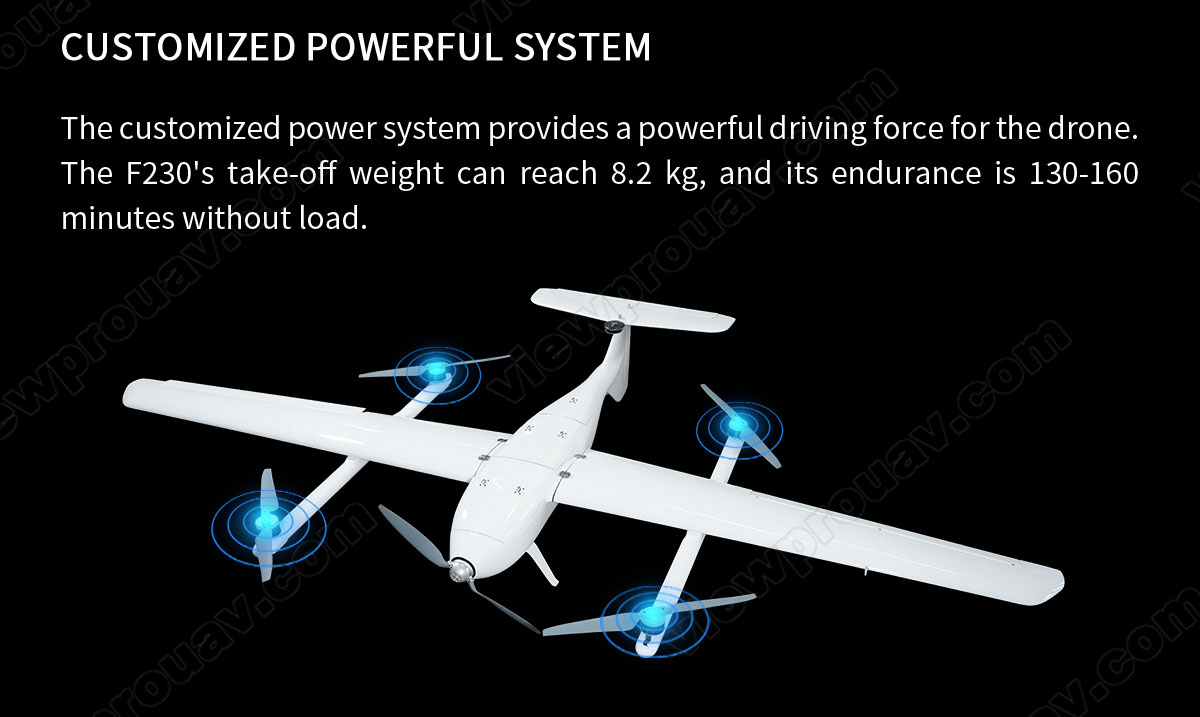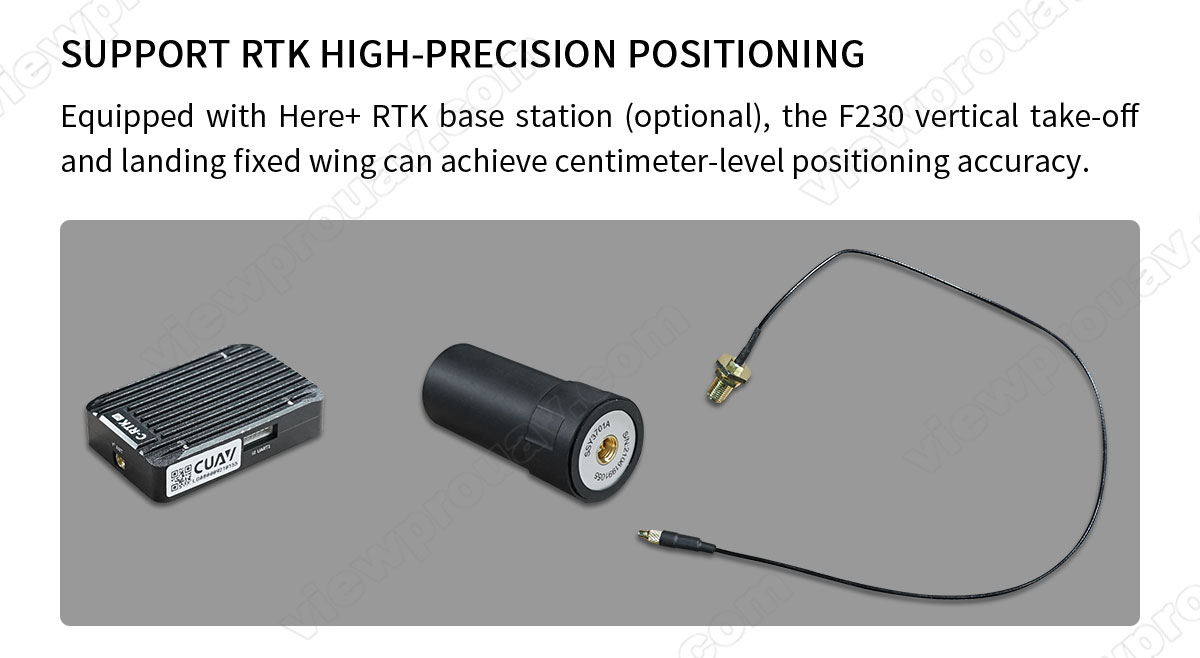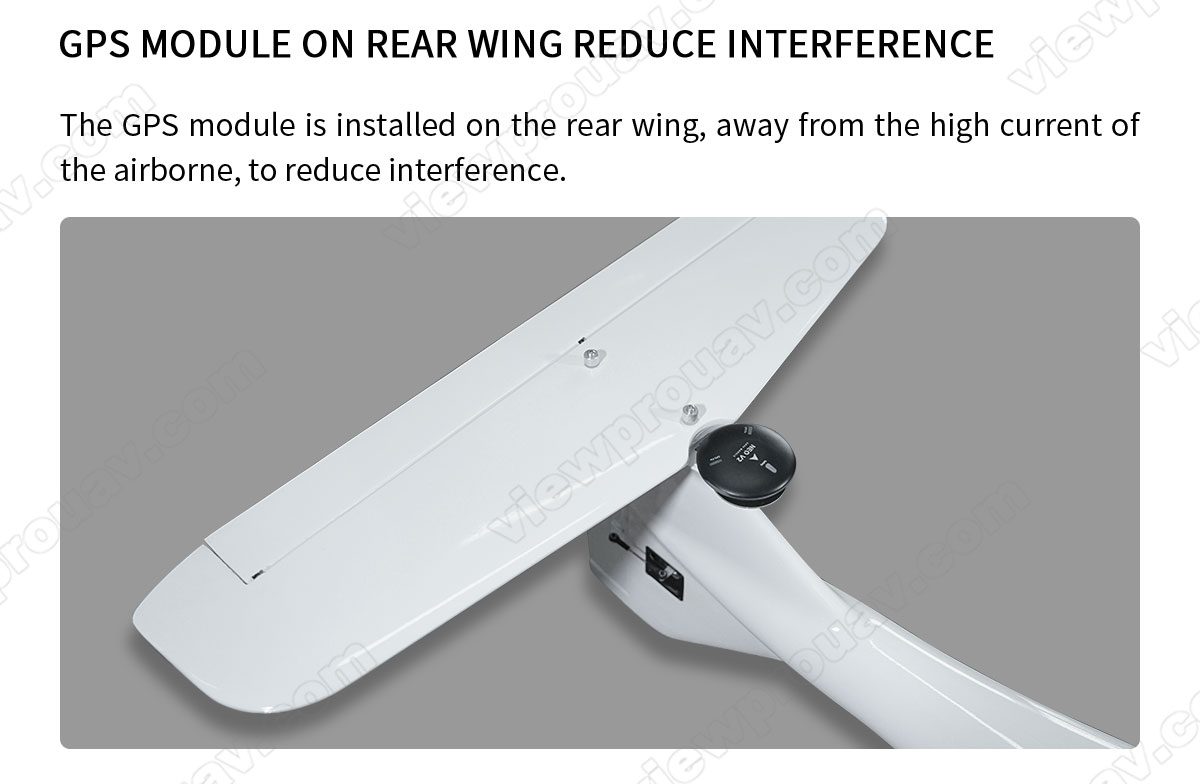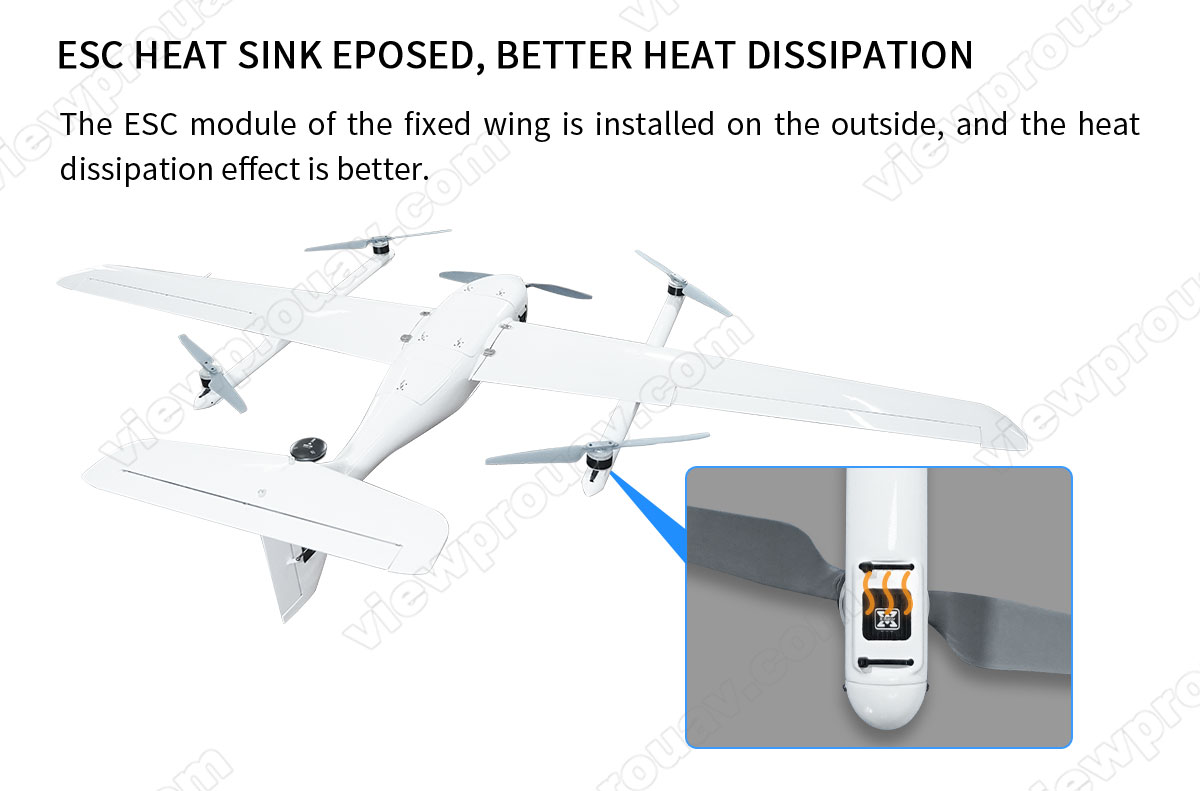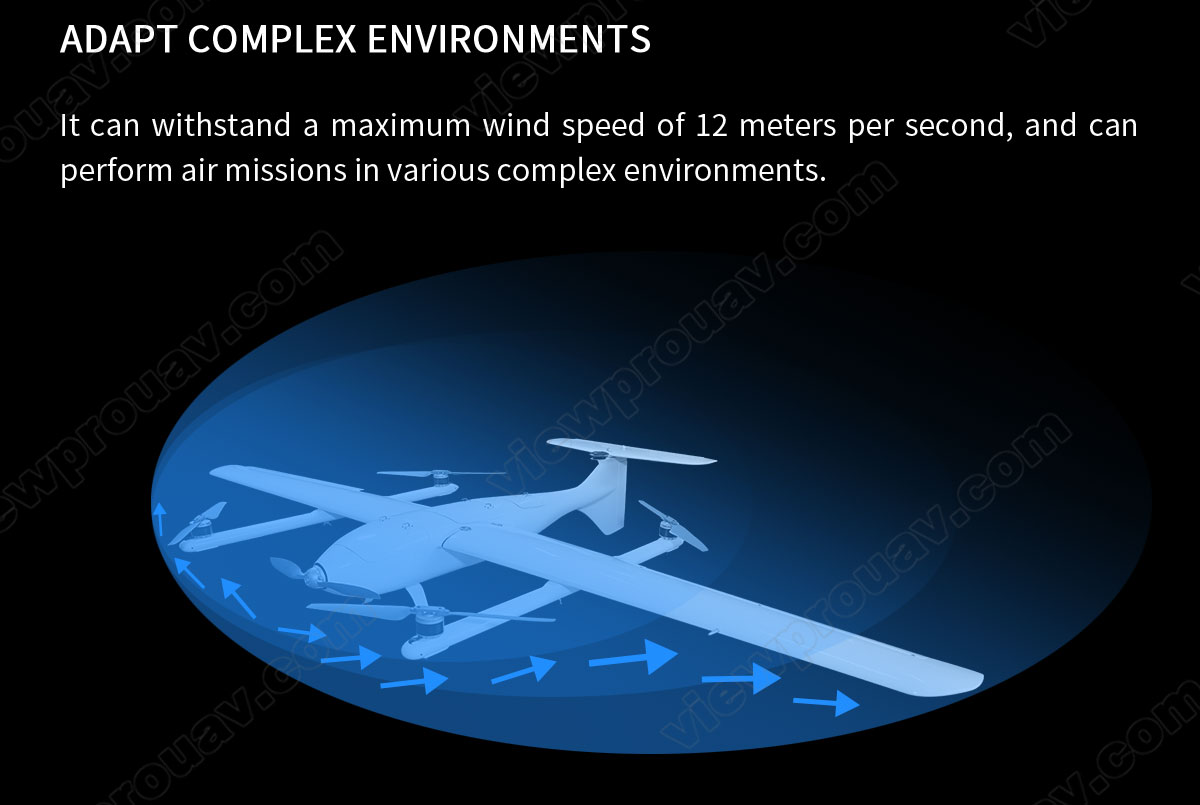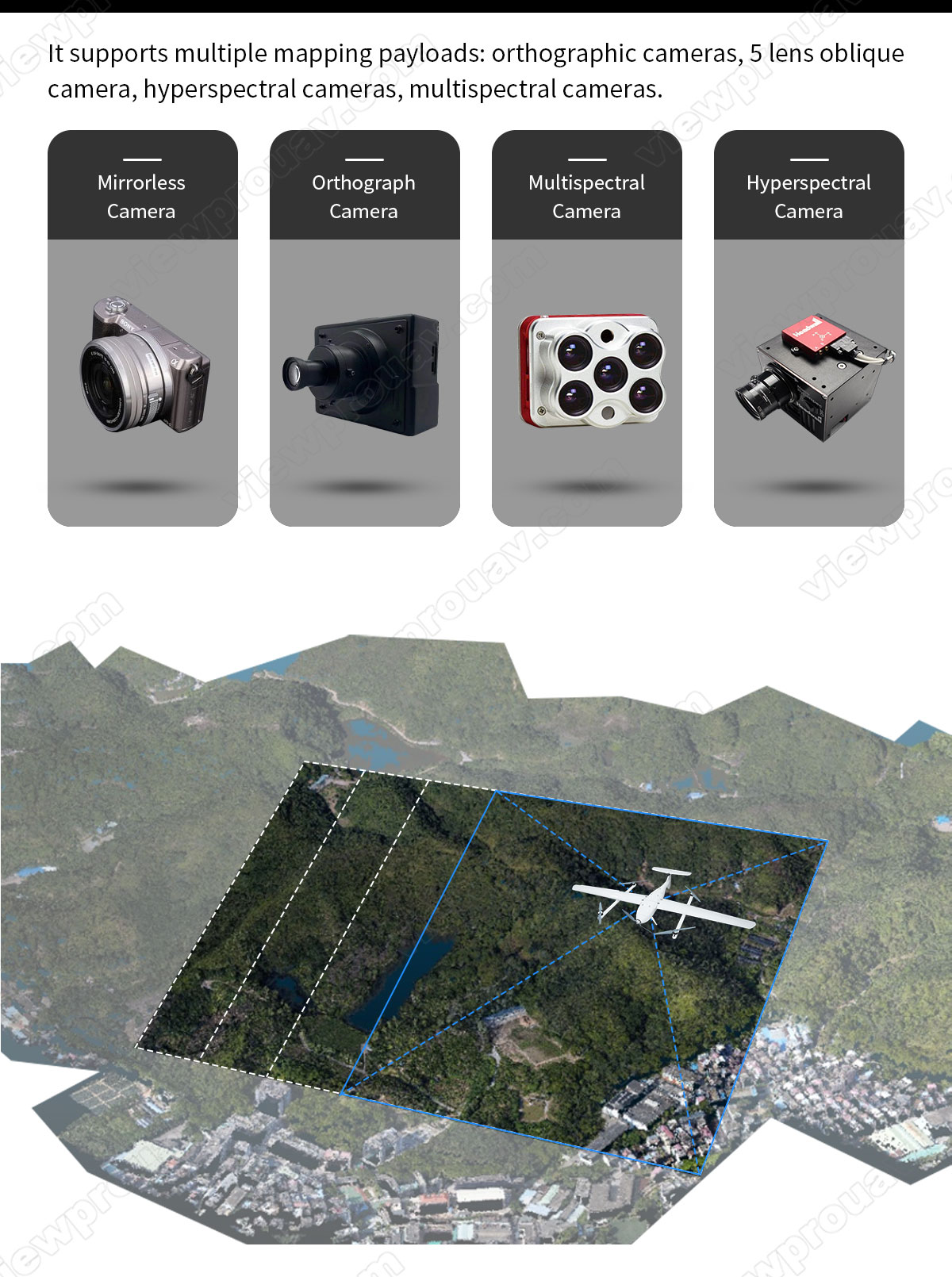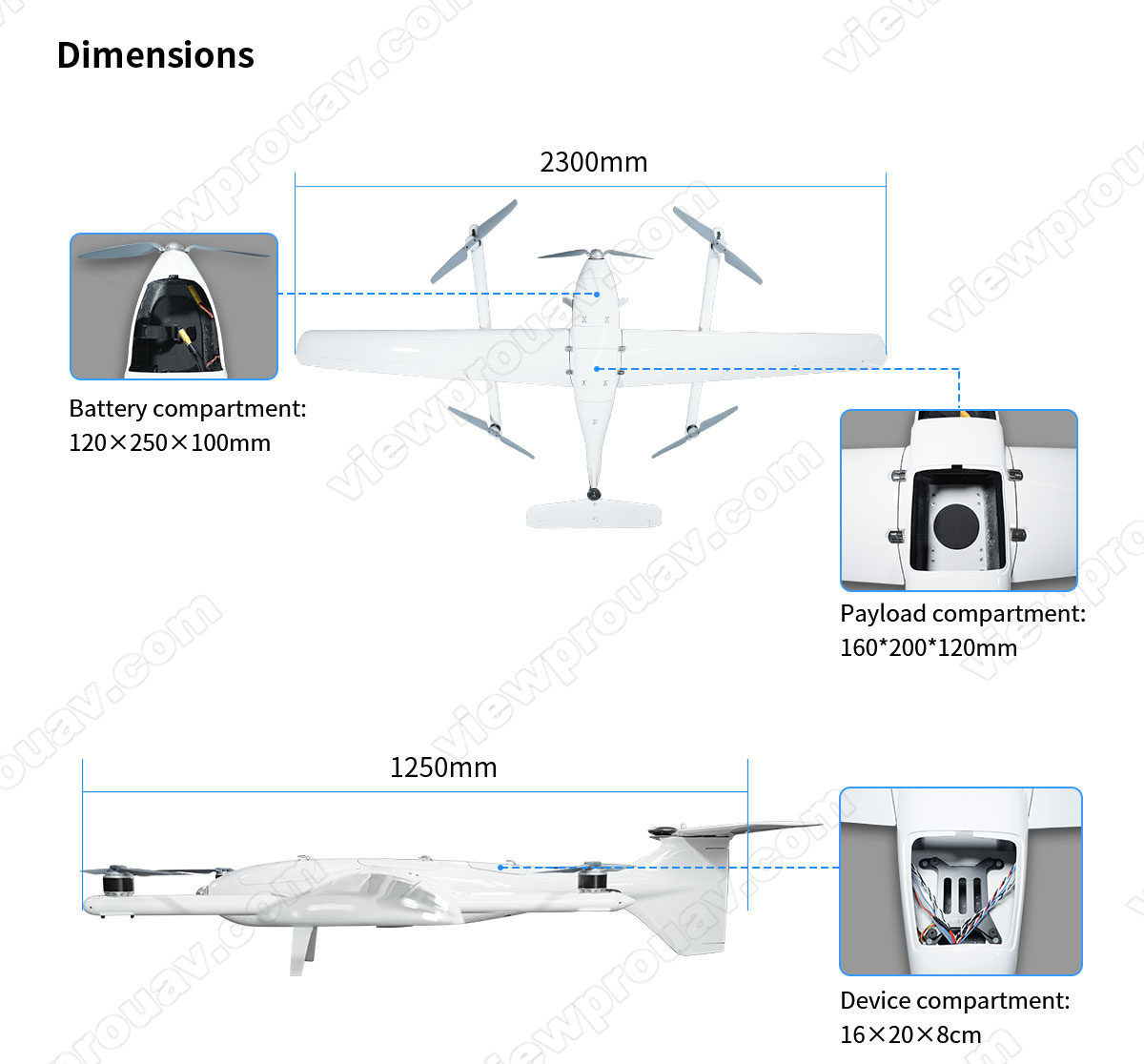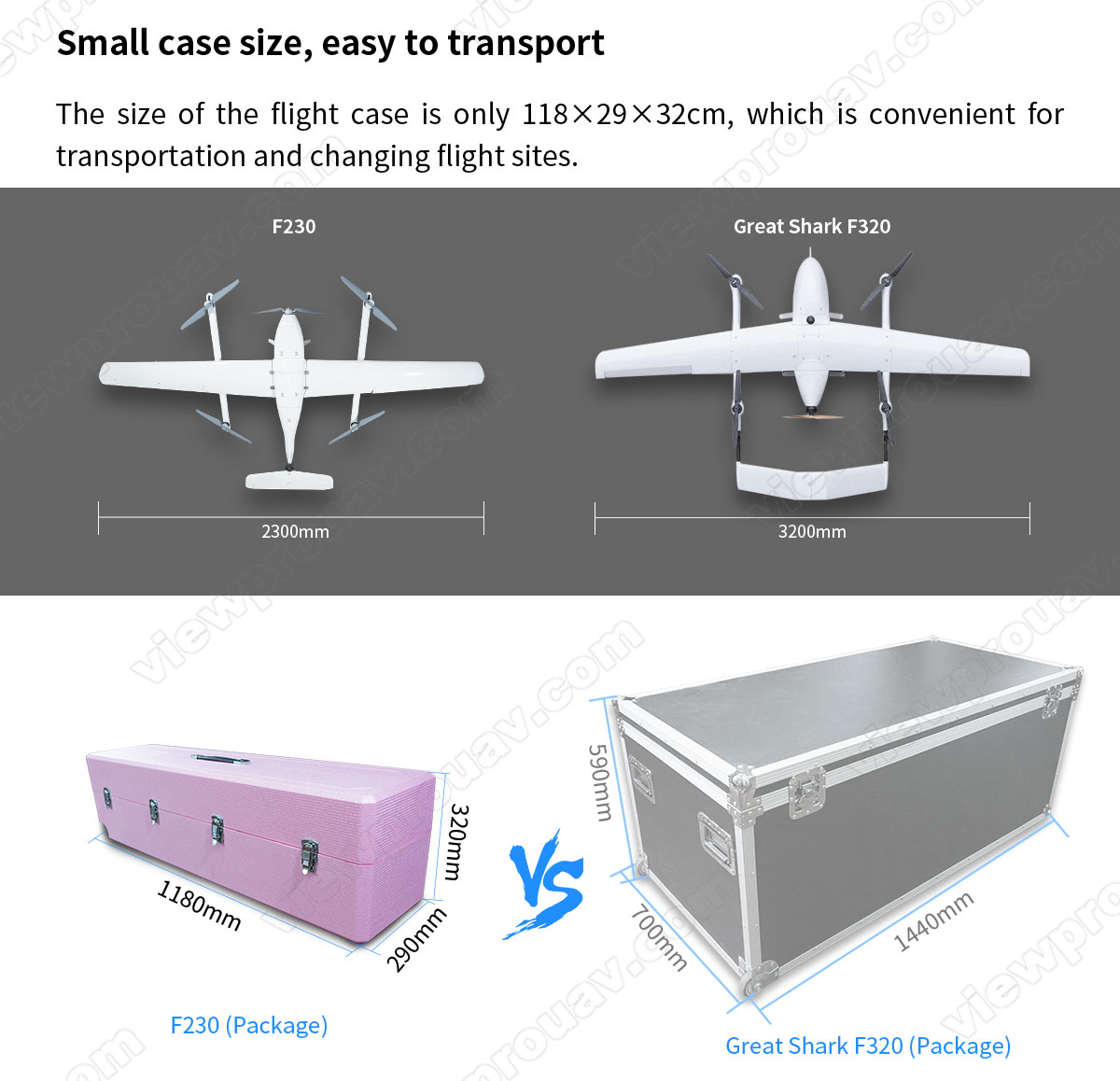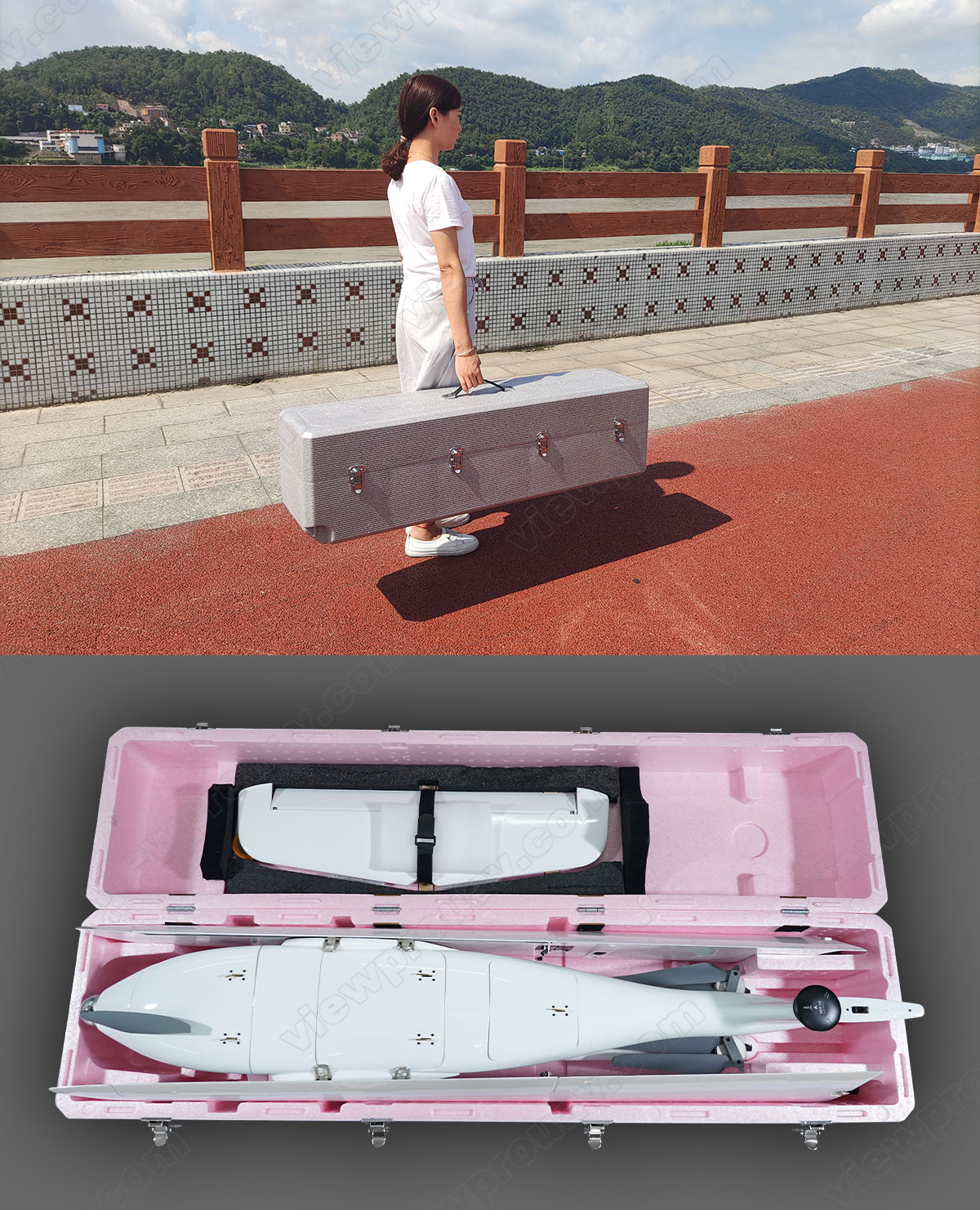 Packing List for Different Versions
| | | | |
| --- | --- | --- | --- |
| Version | CUAV V5+ RTF | Cube Orange+ RTF | CUAV X7+ RTF |
| Flight Controller | CUAV v5+ Flight Controller | 1x Cube Orange Standard Set | CUAV X7+ Flight Controller |
| GPS | NEO3 | Here 3 | NEO3 Pro |
| VTOL Airframe | √ | √ | √ |
| VTOL Motor | 4pcs | 4pcs | 4pcs |
| VTOL ESC | 4pcs | 4pcs | 4pcs |
| Airplane Motor | 1pc | 1pc | 1pc |
| Airplane ESC | 1pc | 1pc | 1pc |
| VTOL Propeller | 2Pairs | 2Pairs | 2Pairs |
| Airplane Propeller | 1pc | 1pc | 1pc |
| Servo | 4pcs | 4pcs | 4pcs |
| UBEC | 1pc | 1pc | 1pc |
| Airspeed meter | 1pc | 1pc | 1pc |
| Landing Light | 1pc | 1pc | 1pc |
| RC&Ground Station | 1x FT24 14Channels RC | 1x M15 Mini HD handheld ground station | 1x M15 Mini HD handheld ground station |
| Video Transmitter | / | / | / |
| Battery | / | / | / |
| Battery Charger | / | / | / |
| Carrying Case | √ | √ | √ |
| Assembling, tuning and flight test service | √ | √ | √ |
Data and image link: 15km, 30km, 50km, 100km
Battery charger: PC1080, AC/DC dual, UP1200
Ground station: VTX20, VTX30, VTX-YH50
| | |
| --- | --- |
| Model No. | F230 |
| Type | VTOL Fixed Wing |
| Color | White as defualt (Support customization) |
| Wingspan | 2300mm |
| Length | 1250mm |
| Belly to Ground | 80mm |
| Battery Cabin | 20×10×6cm |
| Material | Carbon fiber + glass fiber +PVC |
| Airframe Weight | 4kg(contains the power) |
| MTOW | 8.2kg |
| Max Payload | 1.3kg |
| Suggested Load | 1kg |
| Flight Time | 160min no payload, 120min with 1kg payload |
| Max Cruising Speed | 90km/h |
| Stall Speed | 50km/h (14m/s) |
| Max Flight Altitude | 3000m |
| Max Wind Resistance | 12m/s (fixed wing), 8m/s (VTOL) |
| Battery (Recommended) | 1* 6S 30000mAH Li-ion |
| Working Temperature | -10-45°с |
| IP Grade | IP44 |
| Package Chargable Size | 118×29×32cm |