UAV fire bomb drop device
Realize scientific and technological fire fighting solutions
Focus on drone fire fighting, and we are more professional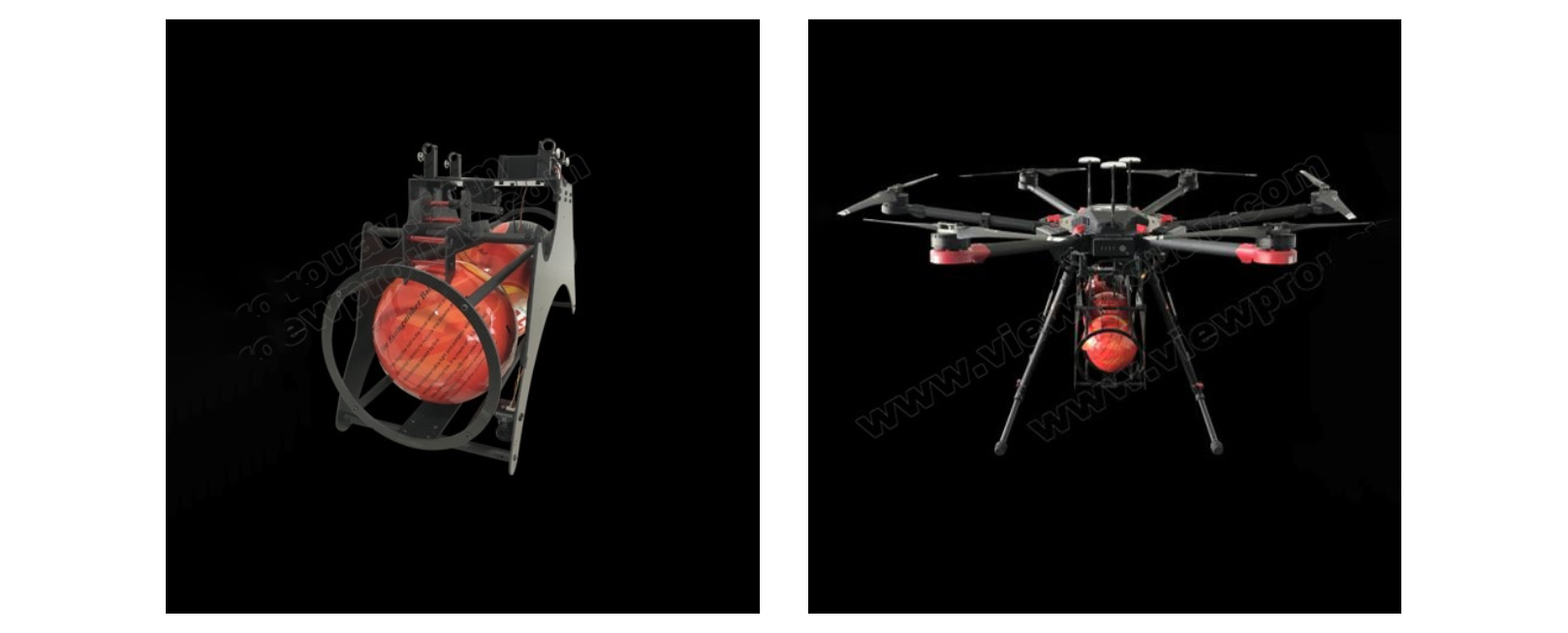 Product overview
At present, when a fire occurs, fire trucks are deployed to fight fires, but fire trucks have great limitations in fighting fires. ln many cases, they are affected by terrain and site conditions and cannot reach the fire scene quickly, which delays the time for fire fighting. The installation of a fire extinguishing bomb release device on the drone completely solves the above problems and can complete the task efficiently and quickly.Let the fire protection industry enter the era of technology!
lndustrial quality
7075 aviation aluminum and carbon fiber material, durable and light weight.
Unique quick release design, it only takes one minute to load and unload.
High-quality steering gear control can achieve fast and accurate delivery.

Excellent design
The maximum capacity can carry three 150MM fire extinguishing bombs.
The hand-tight screw loading design can realize fast loading.
Built-in camera for accurate positioning and casting effect view.
Product details
Safety box x1
Throwing device x1
Six channel remote control x1
Module application scenarios

The product is suitable for emergency fire extinguishing in chemical plants, forest fire protection, military applications, marine ships, urban high-rise rooftops and residential areas. It can effectively control and extinguish fires in a short time and ensure the safety of people's lives and properties in the fire scene.
Specification
Device

Product size:

490mm*210mm*310mm

Outer packing dimensions:

550mm*270mm*390mm

Product weight

Net weight 1.2KG

(does not contain fire bomb weight)

Product Material:

7075 Air aluminum, carbon fiber

Power supply mode:

the airborne powrer supply

Supply voltage:

24v

Mounad model:

UAV above 5KG

lnstallation method:

quick disassembly type

Communication interface:

PWM pulse width signal

Expansion Channel:

M600 is enabled (contact Sales first)

Control distance:

800M

Number of loads:

3

Fire extinguishing parameters

approximately 1.3KG (15omm)

Delivery mode:

single issue

Recommended drop height

5~50m

Fire let reaction time:

3-5s

Fire extinguishing range:

the range of a single fire extinguisher is about 3m气 subject to the actual effect of the fire extinguisher)

Use temperature

-10c ~ + 70c
Remote control

Overall dimension:

180mm*82mm*161mm

weight:

392 gram

lmput pnRwer supplye

6V1.5AA"4

Data output

PS2 interfacePPM

Frequency range:

2.4055-2.475GHZ

Band width:

500KHz

Transmitter power:

not more than 20dBm

Low voltage alarm:

below 4.2V

charging interface

No

Antenna length

26 mm 2 [dual antenna]

Display mode:

STN semi-transparent positive display, 128×64 dot array VA73*39 mm LED white backlight