Mako Shark F412 is an electric VTOL Fixed wing UAV with the features of long endurance, high reliability, high climb rates, long control range, and convenient maintenance, it's easy to deal with flight in high drop terrain.
It is widely used in various domains, such as environment monitoring, power/oil pipeline inspection, railway patrol, surveying and mapping, border patrol, forest fire-fighting, etc.
Mako Shark F412 can be equipped with Viewpro high accuracy stabilization payload to enhance tracking of moving targets, ensuring efficient task completion in detection and tracking applications.
Mako Shark F412 is the greatest electric vertical rotor wing for taking off and landing. It equips a 4pcs 6S 30000mAh battery for 4 hours of flight endurance to achieve functions like program control, 3D coordinate airline autonomous flight, target tracking, emergency return, and fixed point circling.
Adopt detachable modular design, F412 is widely used in outfield rapid deployment with excellent user experience by quick assembly within 2 minutes. The avionics subsystems implement the functions of UAV posture calculation, flight control, track control, and flight management, etc., it also supplies electricity for all airborne equipment.
Mako F412 is equipped with a high-precision positioning module to meet the requirements of landing on a moving platform. In the meantime, the positioning module communicates via CAN protocol, which has a stronger anti-interference ability and makes the on-site operation safer and more reliable.
With a maximum of 10kg payload, it plays an important role in search& rescue, emergency materials delivery, long-distance logistics, etc.
Viewpro provides turnkey drone solutions. With the professional integration service from Viewpro, you can choose different flight controllers (open source or industrial), appropriate range (10km to 100km) video transmitters, and various payloads (gimbal cameras of Viewpro , mapping cameras, 5 lenses oblique camera, multispectral camera, high-end Lidars, etc) for your drone according to different missions. Mako F412 can be committed to various long-range applications such as surveillance, power line&pipe line inspection and mapping, boarder defense, forest firefighting, energy, and survey.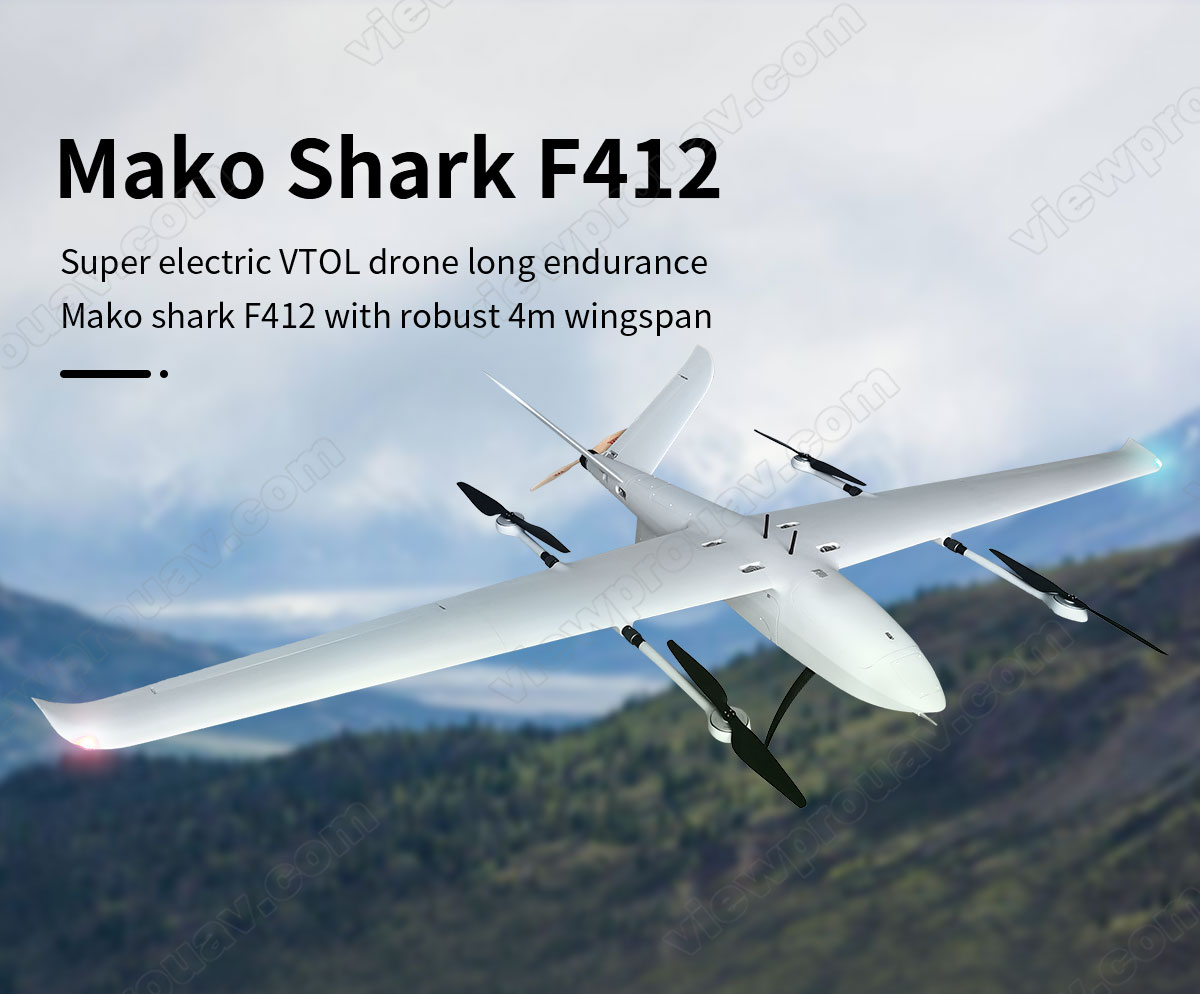 VTOL drone F412 has 4m wide wingspan to provide robust lift force.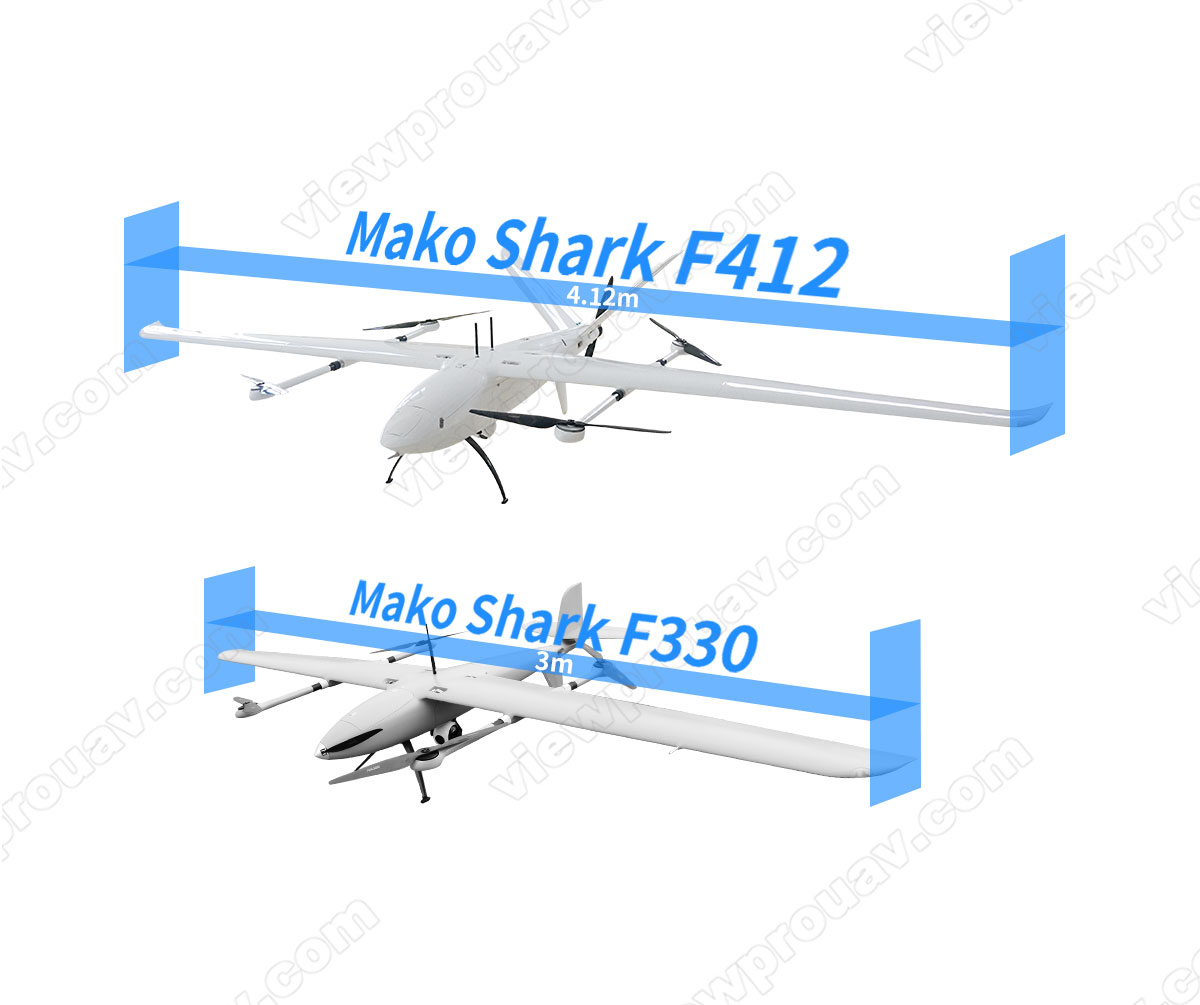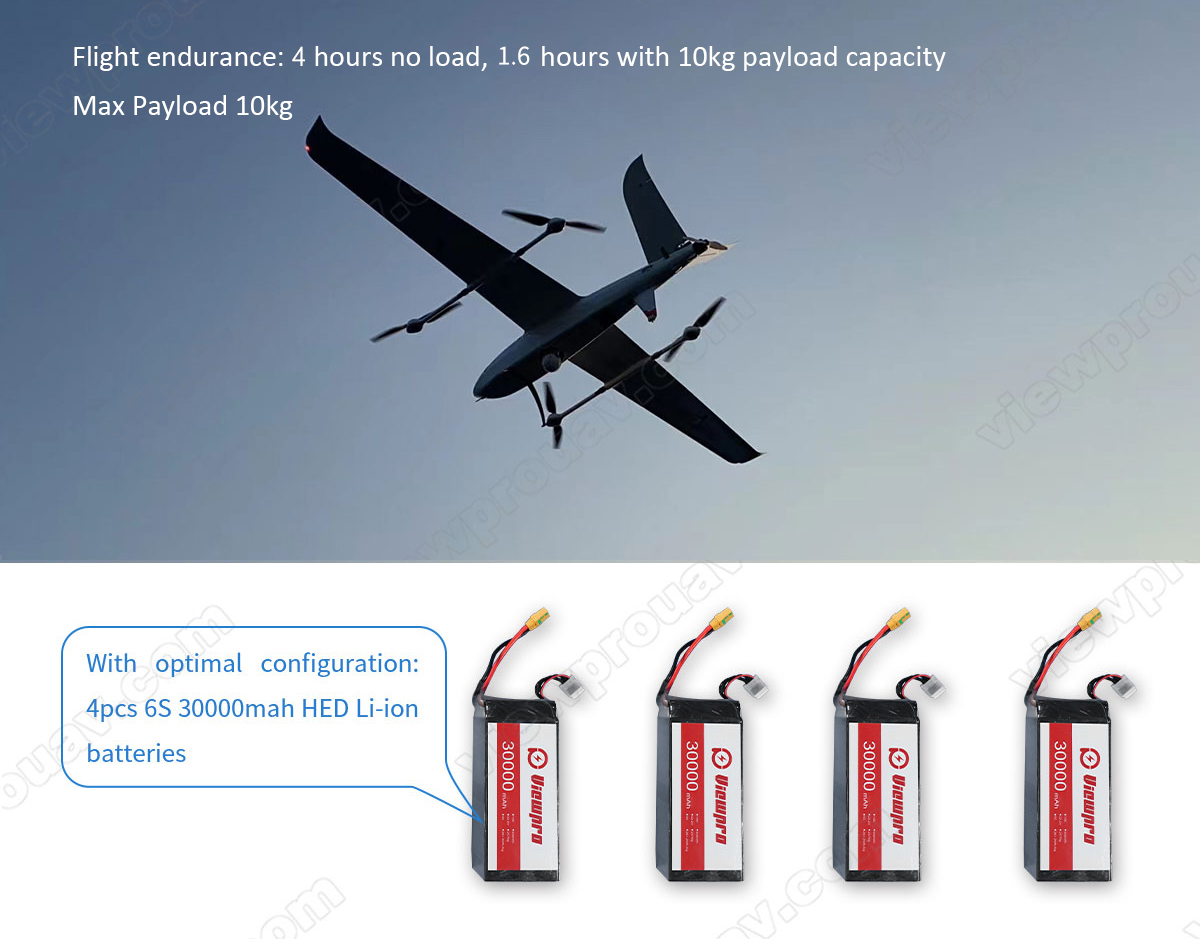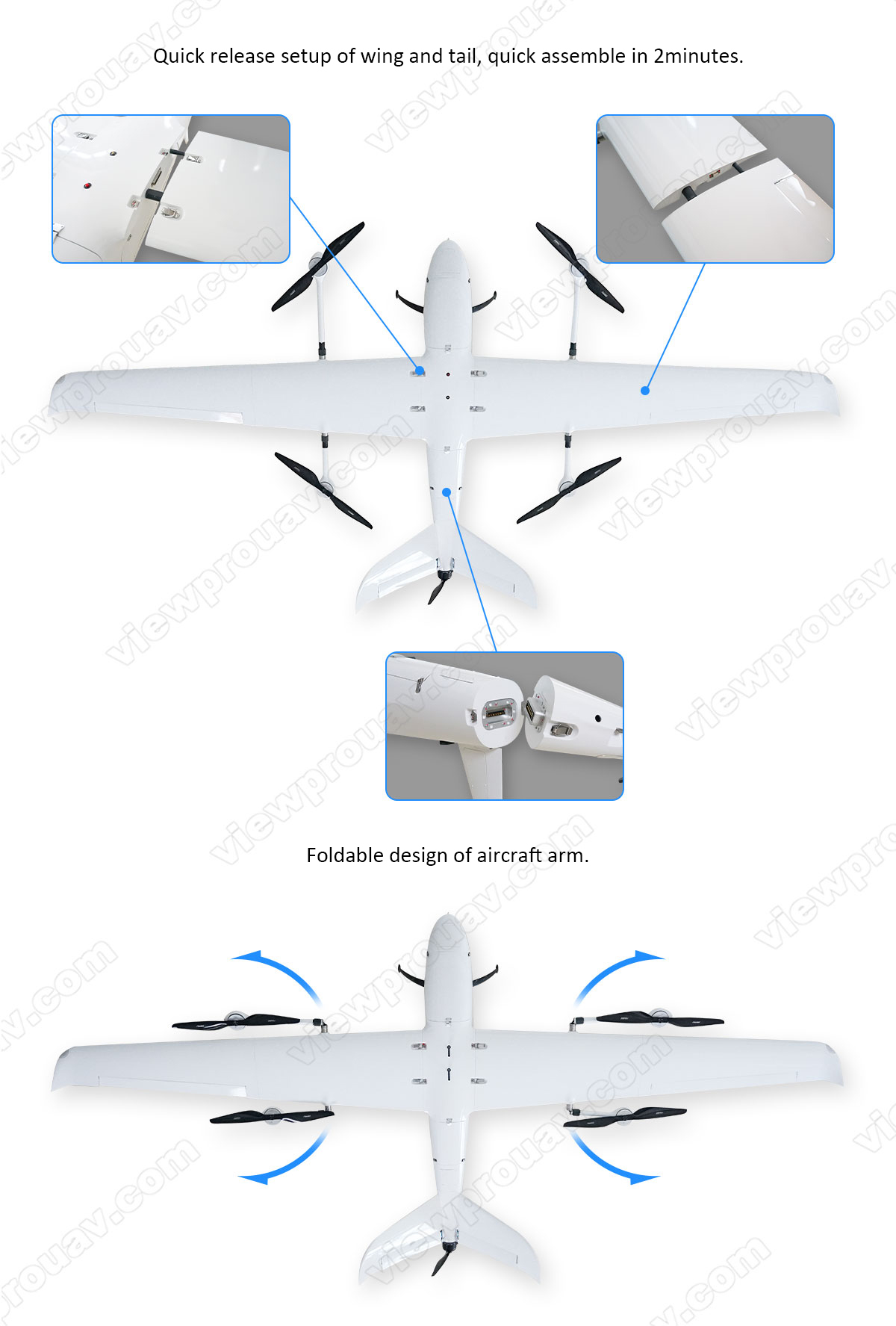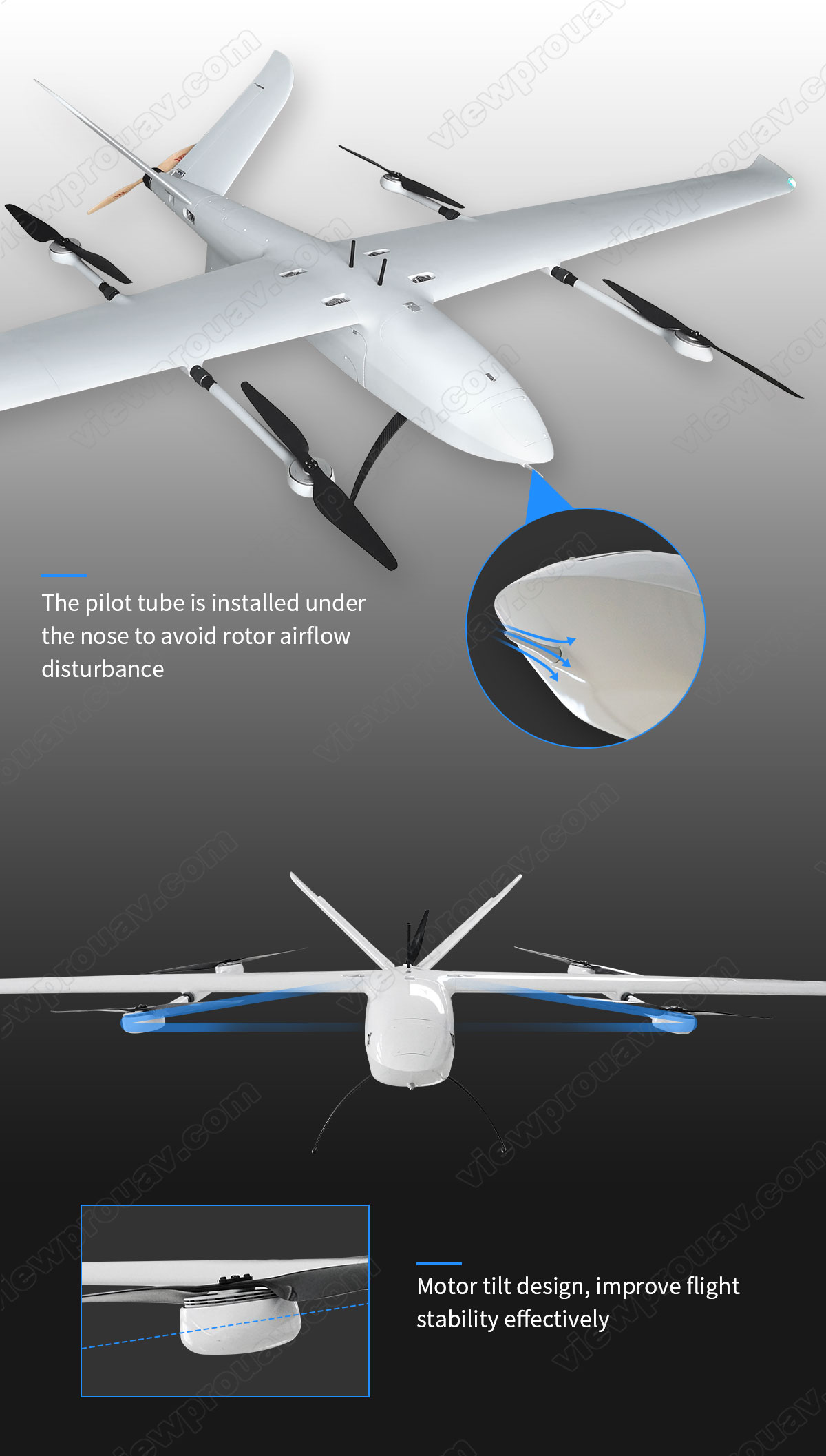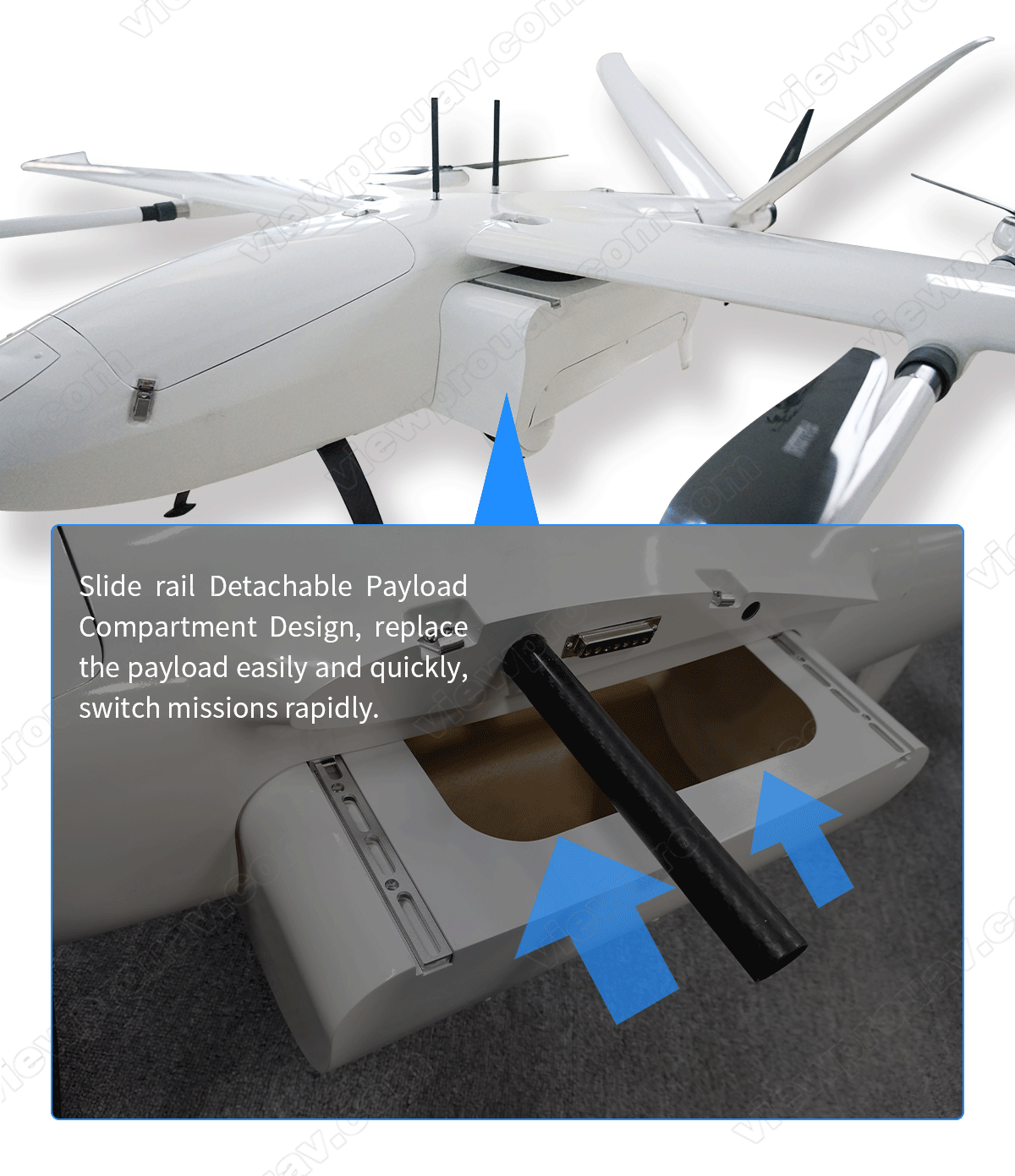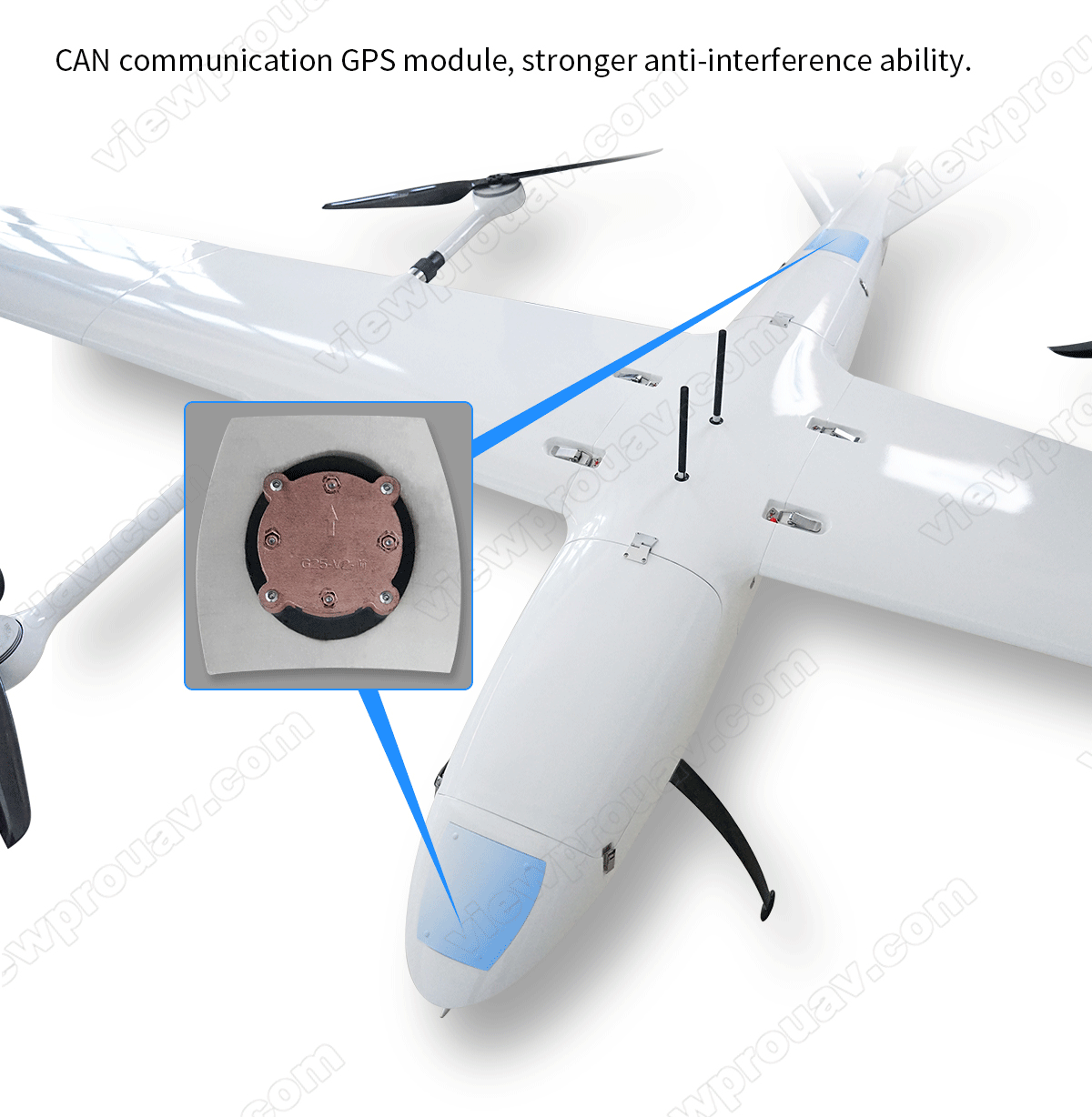 Excellent workmanship and quality assurance.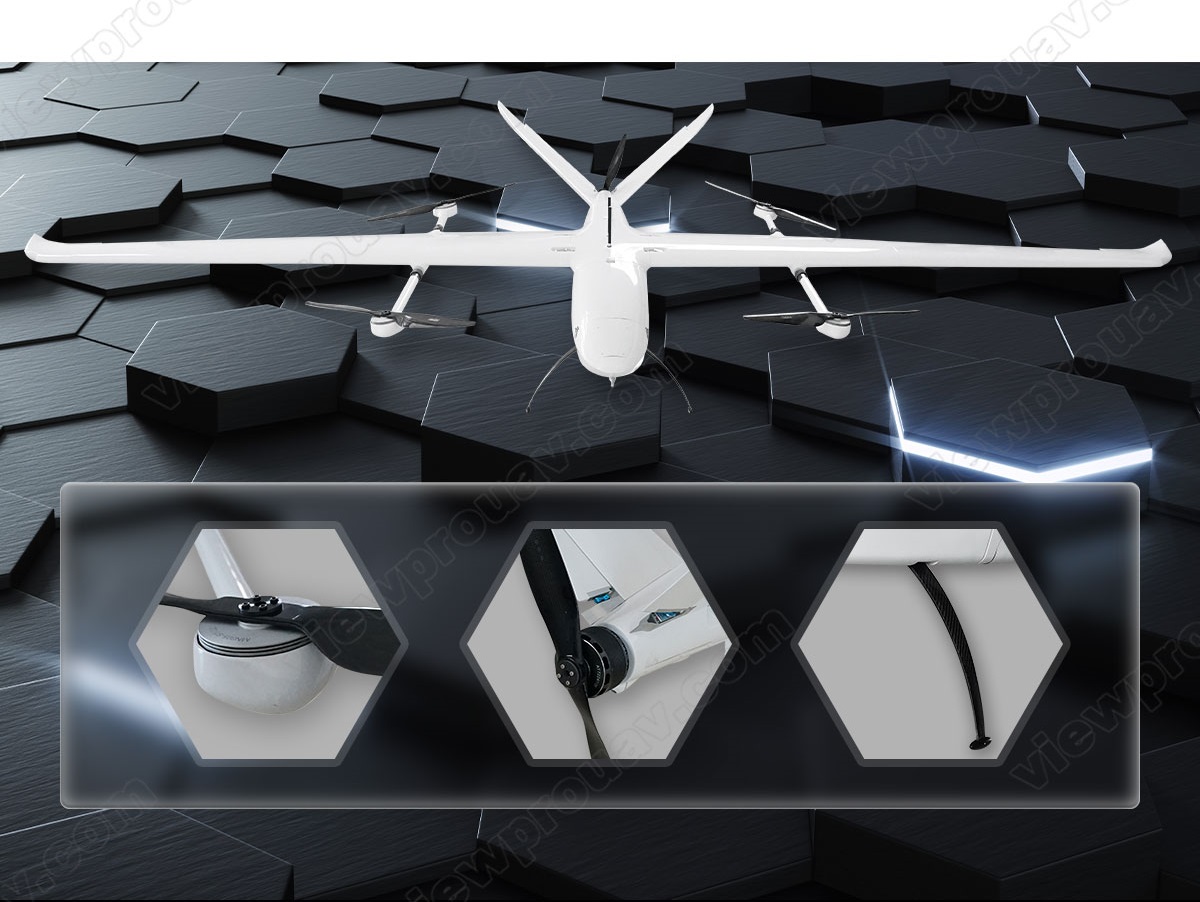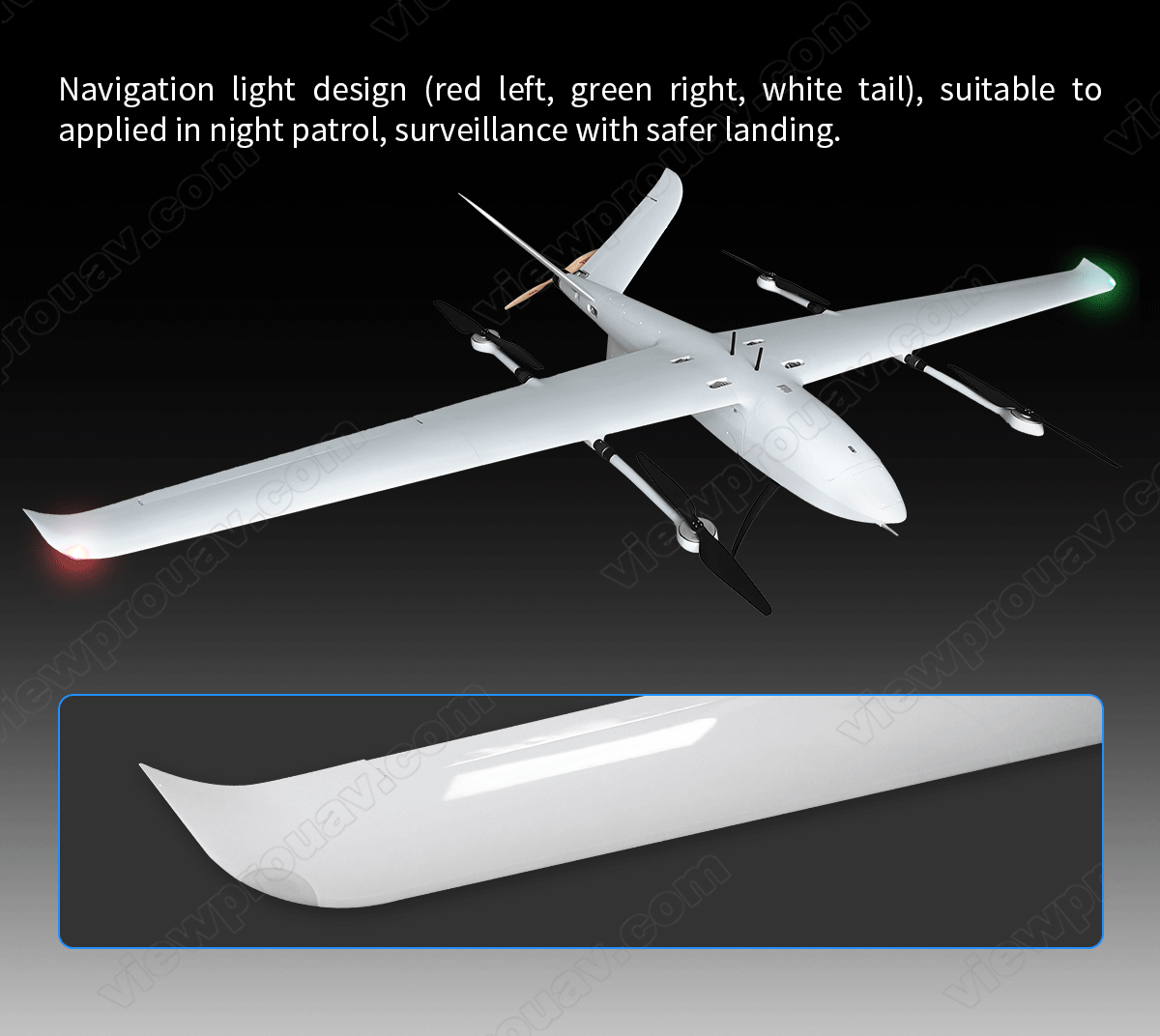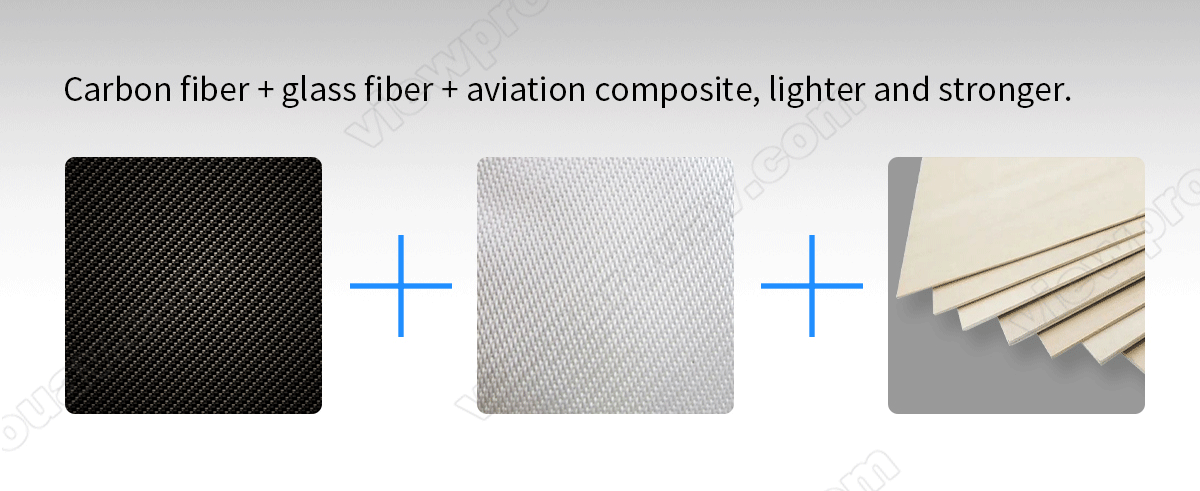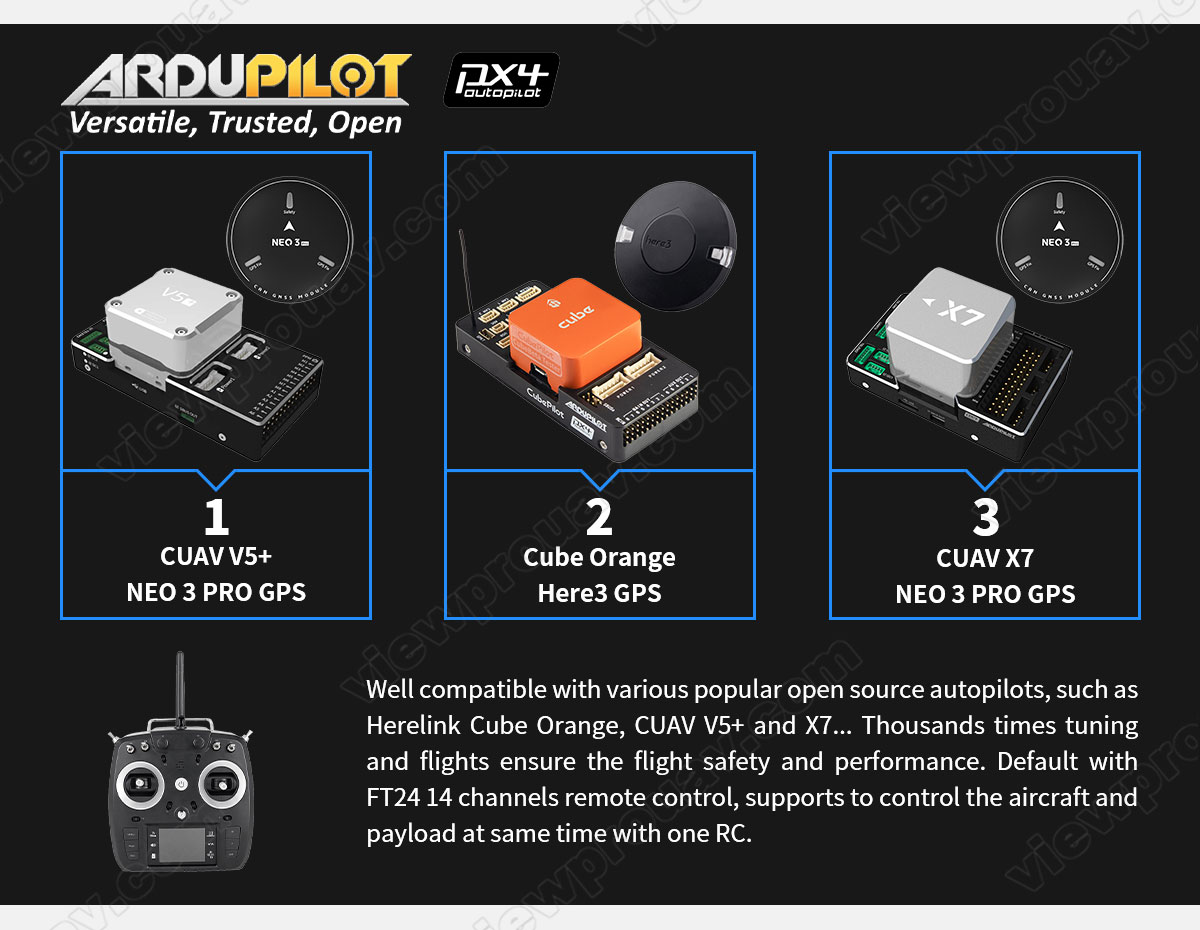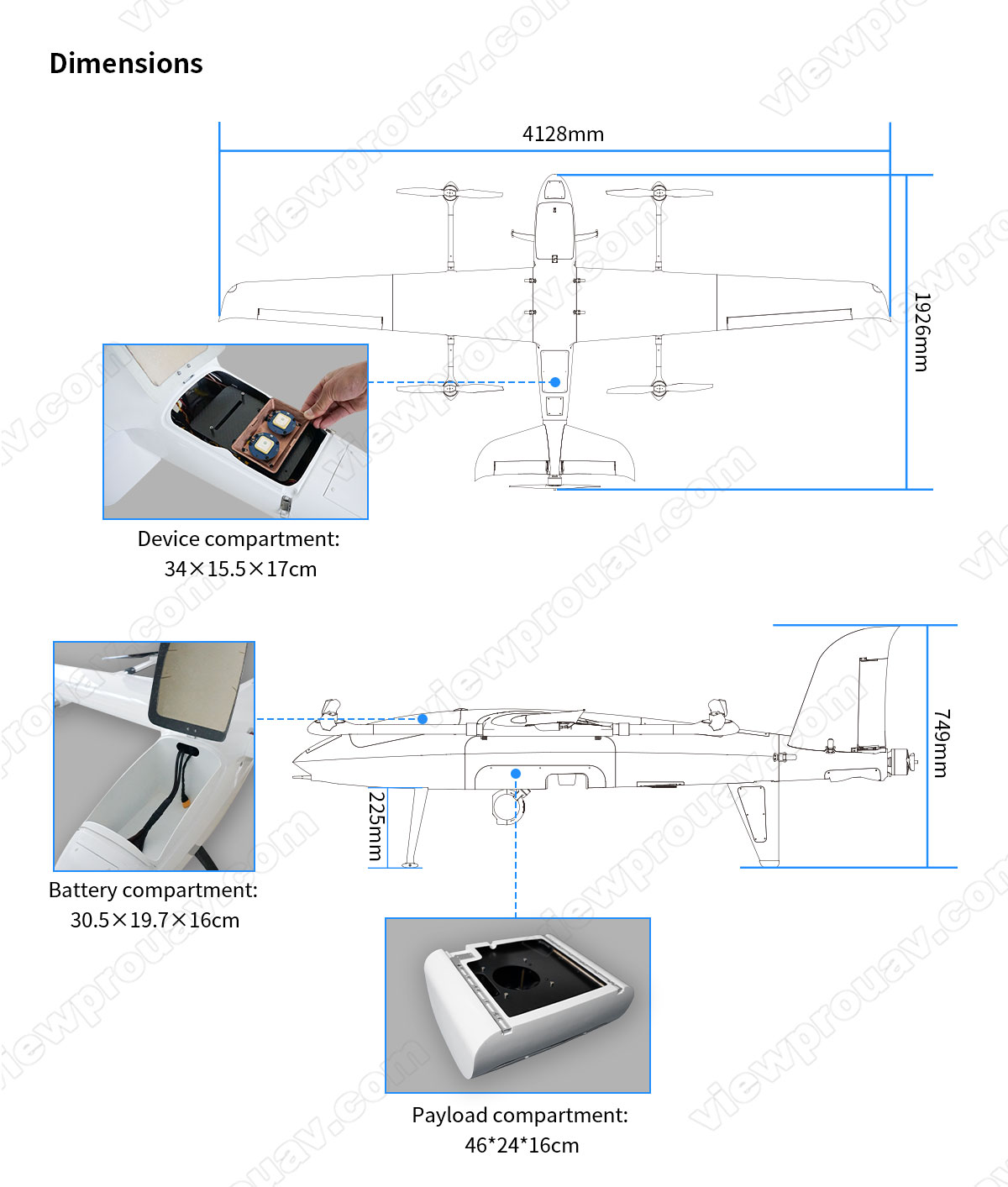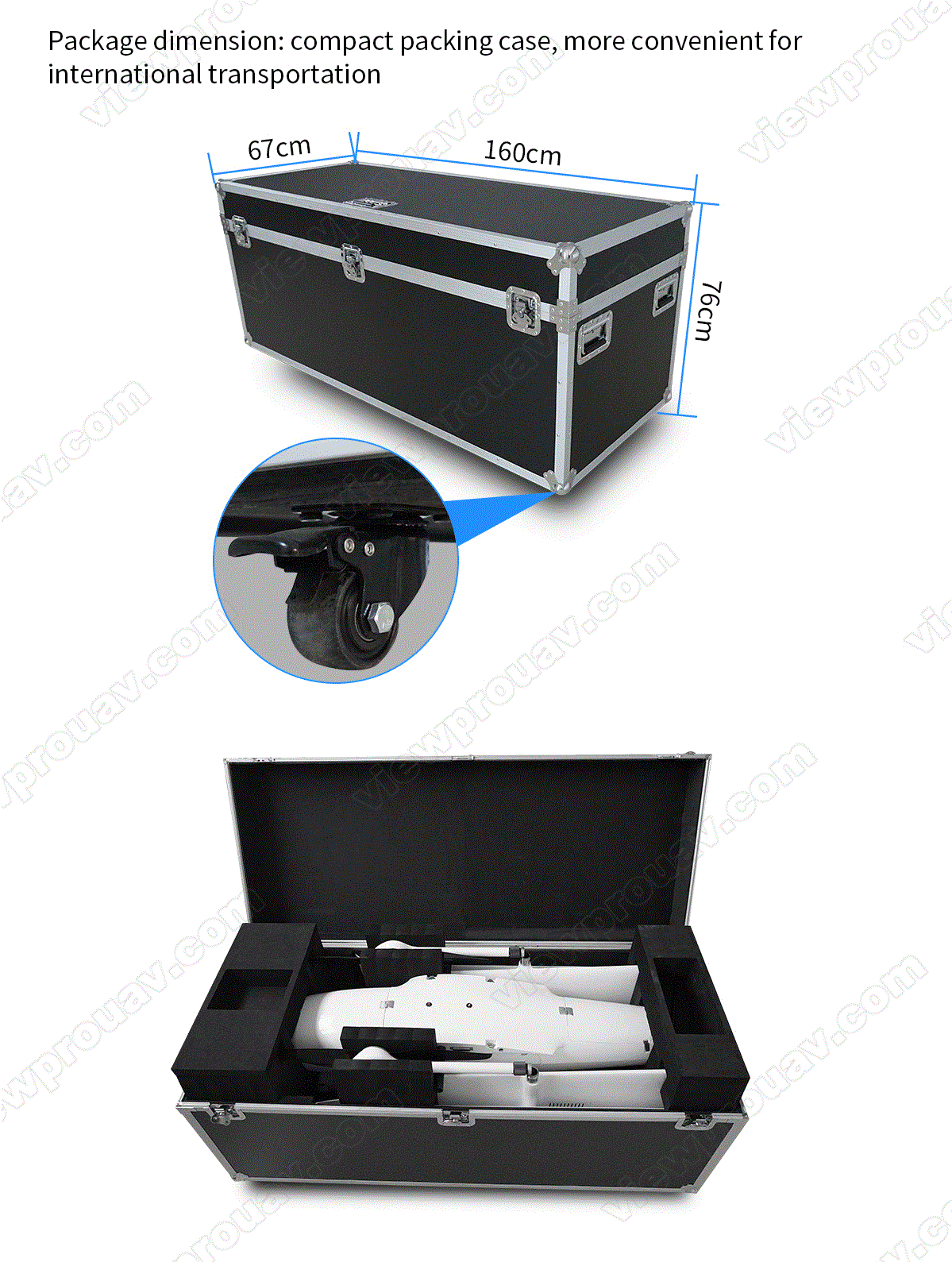 Packing List for Different Versions:
| | | | |
| --- | --- | --- | --- |
| Version | CUAV V5+ RTF | Cube Orange RTF | CUAV X7+ RTF |
| Flight Controller | CUAV V5+ | Cube Orange | CUAV X7+ |
| GPS | NEO3 Pro | Here 3 | NEO3 Pro |
| VTOL Airframe | √ | √ | √ |
| VTOL Motor | 4pcs | 4pcs | 4pcs |
| VTOL ESC | 4pcs | 4pcs | 4pcs |
| Airplane Motor | 1pc | 1pc | 1pc |
| Airplane ESC | 1pc | 1pc | 1pc |
| VTOL Propeller | 2Pairs | 2Pairs | 2Pairs |
| Airplane Propeller | 1pc | 1pc | 1pc |
| Servo | 4pcs | 4pcs | 4pcs |
| UBEC | 1pc | 1pc | 1pc |
| Airspeed meter | 1pc | 1pc | 1pc |
| Night Light | 1pc | 1pc | 1pc |
| RC&Ground Station | 1x FT24 14Channels RC | 1x DK32SE 16Channels RC | 1x DK32SE 16Channels RC |
| Video Transmitter | / | / | / |
| Battery | / | / | / |
| Battery Charger | / | / | / |
| Flight Case | √ | √ | √ |
| Assembling, tuning and flight test service | √ | √ | √ |
| | |
| --- | --- |
| Model No. | Mako Shark F412 |
| Type | VTOL Fixed Wing |
| Color | White as default (Support customization) |
| Wingspan | 4128mm |
| Length | 1926mm |
| Belly to Ground | 225mm |
| Battery Cabin | 30.5×19.7×16cm |
| Material | Carbon fiber + glass fiber + aviation composite |
| Airframe Weight | 15kg(contains the power) |
| MTOW | 33kg |
| Max Payload | 10kg |
| Suggested Load | 1~8kg |
| Flight Time | 4hrs with no payload, 1.6hrs with 10kgs payload |
| Max Cruising Speed | 110km/h (27m/s) |
| Stall Speed | 54km/h (15m/s) |
| Max Flight Altitude | 4500m |
| Max Wind Resistance Level | 15m/s |
| Battery (Recommended) | 4* 6S 30000mAH HED Li-ion |
| Working Temperature | -10℃~60℃ |
| IP Grade | IP45 |
| Package Chargeable Size | 160×67×76cm |