Q10TIR-35 is a powerful 3-axis gimbal camera which integrates a 10x optical SONY zoom camera and a 640x480 thermal camera. The 3-axis gimbal based on FOC technology features high stability, accuracy and sensitivity. The image is very stable even at 10 times optical zoom. Detecting by heat source, the 35mm thermal can reveal the damage of buildings, fire spark in forest, the location of people or animal and more. It's widely used in day and night surveillance, search, inspection and firefighting.
10x Time Optical Zoom EO Camera
Powered by 1/3" CMOS module, with ultra-low illumination, Q10TIR-35 can still clearly display image features in utter poor light environment. 2mega effective pixel and 1080p HD image quality, combined with powerful optical zoom technology, fast auto-focus speed,designed for UAV aerial photography.

Advanced IR Thermal Imager
Integrated French ULIS high-precision uncooled long wave (8μm ~14μm ) thermal image sensor, Q10TIR-35 can record and transmit thermal image and visible images at the same time in PIP format.
Optional thermometry version: With temperature measuring sensor, it could accurately attain the temperature of objects and individuals. The thermal sensor allows three points' temperature ranging between 0℃~120℃ to be measured and displayed on screen. Adjust the different colors applied to the thermal data based on the needs of specific scenarios.
---
*Temp bar: Indicates gradually variation temperature with corresponding colors.
*Temp measurement: Display average, highest, and lowest temperatures in real time.
*Temp alarm: Don't miss a thing when object temperatures exceed pre-set alert values.


Visible Light and Thermal Imager Dual Sensors Object Tracking
Build-in normalization, cross-correlation and tracking algorithm, combining with object missing recapture algorithm, achieve stable track of the target. Support custom characters of user OSD, adaptive gate, cross cursor, trace information display. The tracking speed is up to 32pixel/frame, object size range is from 16*16 pixel to 160*160 pixel, with the minimal signal-to-noise ratio (SNR) 4db, the mean square root values of pulse noise in the object position <0.5 pixel, which greatly improve the accuracy and tracking effect.


Multi Control Methods
Defualt PWM and Serial port TTL control, SBUS is optional, IP output version also support TCP control via ethernet cable. With Viewpro software Viewlink you can fulfill IP output, TTL control and TCP contorl.

Control box signal interfaces:

Compatible with Viewport
Q10TIR-35 is compatible with Viewpro quick release connector Viewport. Viewport is an option known as easy assembly, plug and play.

For more information about Viewport, please check below video instruction:
Applications
Mainly supply in law enforcement, fire-fighting, power tower and pipeline inspection, search and rescue etc. A wide range of monitoring and searching is required in an emergency to quickly transfer the situation, improve response efficiency and reduce casualties.

Dimensions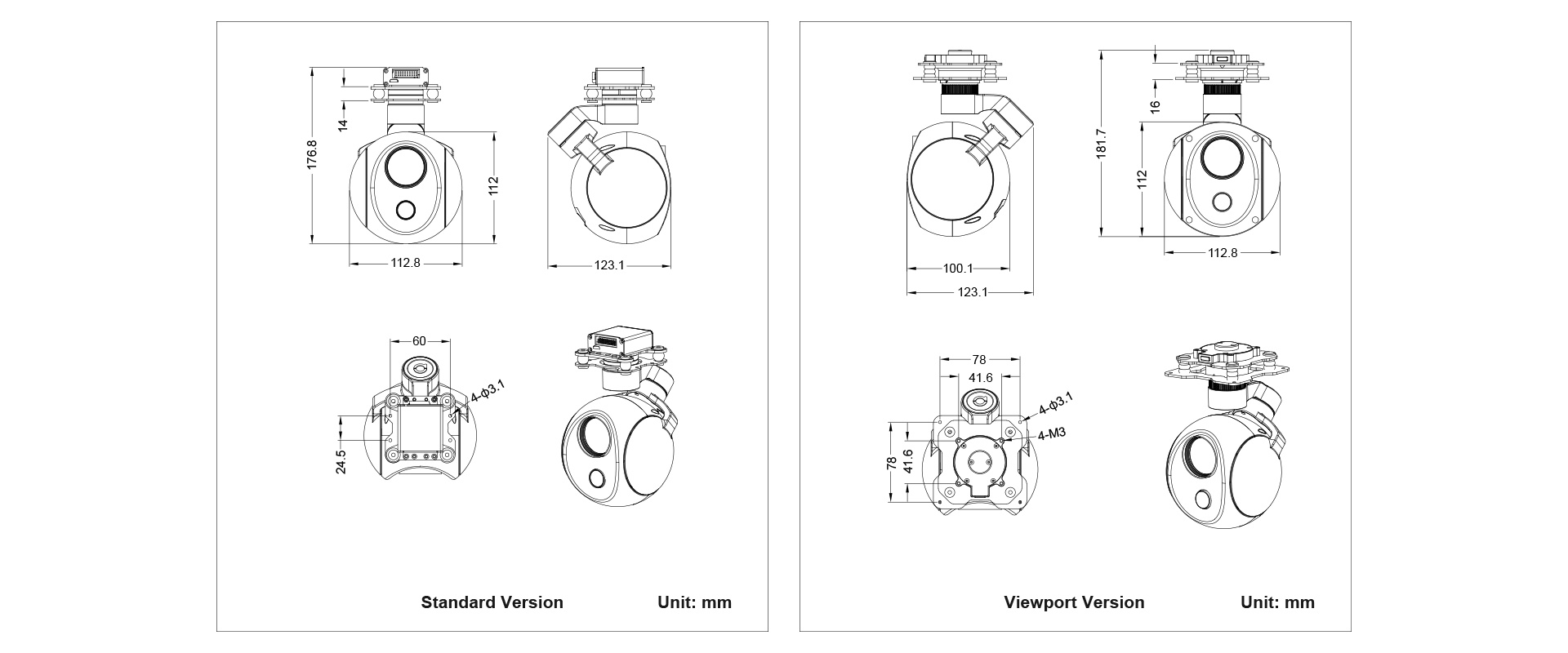 Hardware Parameter
Working voltage
12V
Input voltage
4S ~ 6S
Output voltage
5V (connect with PWM)
Dynamic current
550mA @ 12V
Idle current
450mA @ 12V
Power consumoption
≤ 6.6W
Working environment temp.
-20℃~+50℃
Output
micro HDMI(1080P 60fps) / IP
Local-storage
TF card (Up to 128G, class 10, FAT32 or ex FAT format)
Control method
PWM / TTL / S.BUS / TCP
Gimbal Spec
Pitch/Tilt
+90°
Roll
±85°
Yall/Pan
±170°/±360°*N
Vibration angle
Pitch/Roll: ±0.01°, Yaw:±0.01°
One-key to center
√
Camera spec
Imager Sensor
SONY 1/3" CMOS
Picture quality
Full HD 1080 (1920*1080)
Effective pixel
4.08MP
Lens optical zoom
10x, F=3.2~33.6mm
Digital zoom
None
Min object distance
10mm(wide end) to 800mm(tele end)
Horizontal viewing angle
59.2°(wide end) ~ 6.7°(tele end)
Sync system
Internal
S/N ratio
more than 52dB
Min illumination
0.5 lx(1/30s, F1.8, 50%)
Gain
Auto / Manual
White balance
ATW1(Narrow), ATW2(Wide), single touch, manual(B,R)
Shutter speed
1/1s to 1/10,000s, 22 steps
Backlight compensation
Yes
Aperture control
16 steps
OSD
Yes
Camera Object Tracking
Update rate of deviation pixel
50Hz
Output delay of deviation pixel
< 10ms
Minimum object contrast
5%
SNR
4
Minimum object size
32*32 pixel
Maximum object size
128*128 pixel
Tracking speed
±48 ~ ±192 pixel/frame
Object memory time
100 frames (4s)
The mean square root values of
pulse noise in the object position
< 0.5 pixel
Thermal Imager Spec
Lens size
35mm
Horizontal FOV
17.7°
Vertical FOV
13.3°
Diagonal FOV
22°
Detective Distance (Man: 1.8x0.5m)
1029 meters
Recognize Distance (Man: 1.8x0.5m)
257 meters
Verified Distance (Man: 1.8x0.5m)
129 meters
Detective Distance (Car: 4.2x1.8m)
3157 meters
Recognize Distance (Car: 4.2x1.8m)
789 meters
Verified Distance (Car: 4.2x1.8m)
395 meters
Working mode
Uncooled long wave (8μm~14μm) thermal imager
Detector pixel
640*480
Pixel size
17μm
Focusing method
Athermal prime lens
Emissivity correction
0.01~1
NETD
≤50mK (@25℃)
MRTD
≤650mK (@characteristic frequency)
Image enhancement
Auto adjust image brightness and contrast ratio
Color palette
White, iron red, pseudo color
Auto Non-uniform correction
Yes (no shutter)
Digital zoom
1x, 3x
Sync correct time
Yes
Thermometry type
Temperature bar (psudo color display) max temp, min temp,
FOV center temp (Optional)
Temperature warning
0℃~100℃
Thermal Imager Object Tracking
Update rate of deviation pixel
30Hz
Output delay of deviation pixel
<3ms
Minimum object size
32*32 pixel
Maximum object size
128*128 pixel
Tracking speed
±48 ~ ±192 pixel/frame
Object memory time
100 frames (4s)
Packing Information
N.W.
692g
Product meas.
113*113*157mm
Accessories
1pc gimbal camera device, 16pcs screws, 4pcs copper cylinders,
12pcs damping balls, 4pcs damping boards, 1pc USB to TTL cable
Hight quality plastic box with foam cushion
G.W.Package meas.
300*250*200mm