Product Description
Z-A7 is the most advanced 3-axis camera stabilizer ready to fly with SONY ALPHA 7R II/III/IV industrial cameras for inspection, mapping and other demanding applications.

Z-A7 is with a pinpoint-precision, which adopts pinpoint-precision encoder in each motor, use FOC algorithm controller, it has the advantages of high stability, small size, light weight and low power consumption.
The speed of Z-A7 gimbal is adjustable, LOW speed mode is used for large zoom range, the control will be more accurate; Fast speed mode is used for small zooming range, which makes the gimbal control sensitive and quick. Also the one-key to center function will allow the gimbal return to initial position automatically and rapidly.
Z-A7 supports PWM control, S.Bus and serial command control, suitable for close range remote control or remote data command control.
Multi Control Methods
Defualt PWM and Serial port TTL control. Sbus is optional. With Viewpro software Viewlink you can fulfill TTL control.
Control box signal interfaces:

Compatible with Viewport
Z-A7 is compatible with Viewpro quick release connector Viewport. Viewport is an option known as easy assembly, plug and play.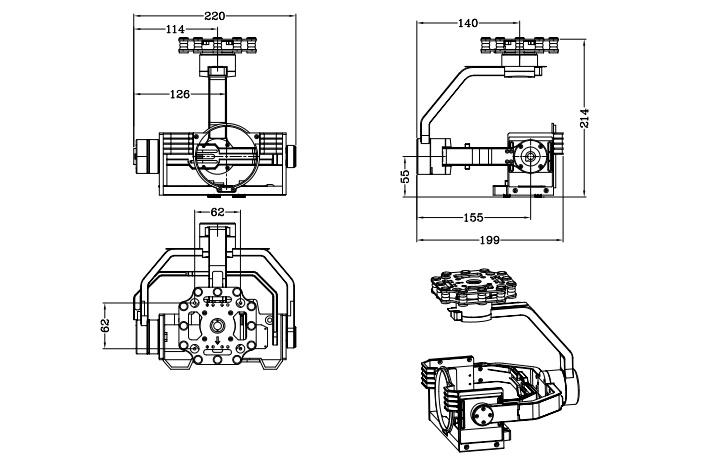 Hardware Parameter
Working voltage
12V
Input voltage
3S ~ 6S
Idle current
250mA @ 12V( Only gimbal)
Power consumption
≤ 5.4W
Working environment temp.
-20℃ ~ +60℃
Output
micro HDMI(HD output 1080P 50/60fps)/AV
Control method
PWM / TTL / S.BUS
Gimbal Spec
Angle scope of structure design
Pitch/Tilt: -45°~220°, Roll: ±45°,
Yaw/Pan: ±300° / ±360°*N (AV output version)
Angle scope of software design
Pitch/Tilt: -45°~90°, Yaw/Pan: ±290° / ±360°*N (AV output version)
Vibration angle
Pitch/Roll: ±0.02°, Yaw:±0.02°
One-key to center
√
Compatibility
Compatible cameras
SONY a7R ll / III / IV camera(FE 24-105mm f/4 G OSS、E 55~210mm)
Use FOC algorithm controller
Gimbal Function
zoom, focus, record and photo shooting, camera on/off,
object tracking (if applicable)
Packing Information
N.W.
1050g
Product meas.
220*199*214mm