Professional 3-axis High-precise FOC Program
The ZIR25T features a thermal imager with 25mm lens, supports 640*480 detector pixels, 1x & 3x digital zoom. The gimbal can be controlled in three directions: YAW, ROLL and PITCH , we use FOC solution can greatly compensate the vibration of UAV.
Powerful 25mm Thermal Imager
Integrated French ULIX high-precision uncooled long wave (8μm ~14μm ) with 25mm lens thermal image sensor, ZIR25T can record and transmit thermal image and visible images at the same time. See the unseen. ULIX thermal sensors reveal details invisible to the naked eye by making subtle differences in temperature visible. This new view on the world can reveal when equipment or buildings are damaged, the location of lost people and much more.

Multi Output Methods Optional
ZIR25T supports both HDMI output, Ethernet/IP output and SDI output. HDMI and output are 1080p, Ethernet output default as 720p and record is 1080p. IP output and SDI output versions will support 360degree enless pan.


Multi Control Methods
Default PWM and Serial port TTL control, SBUS is optional, IP output version also support TCP control via ethernet cable. With Viewpro software Viewlink you can fulfill IP output, TTL control and TCP contorl.

Control box signal interfaces:

Compatible with Viewport
ZIR25T is compatible with Viewpro quick release connector Viewport. Viewport is an option known as easy assembly, plug and play.

For more information about Viewport, please check below video instruction:
Application
Mainly supply in law enforcement, fire-fighting, power tower and pipeline inspection, search and rescue etc. A wide range of monitoring and searching is required in an emergency to quickly transfer the situation, improve response efficiency and reduce casualties.

Dimensions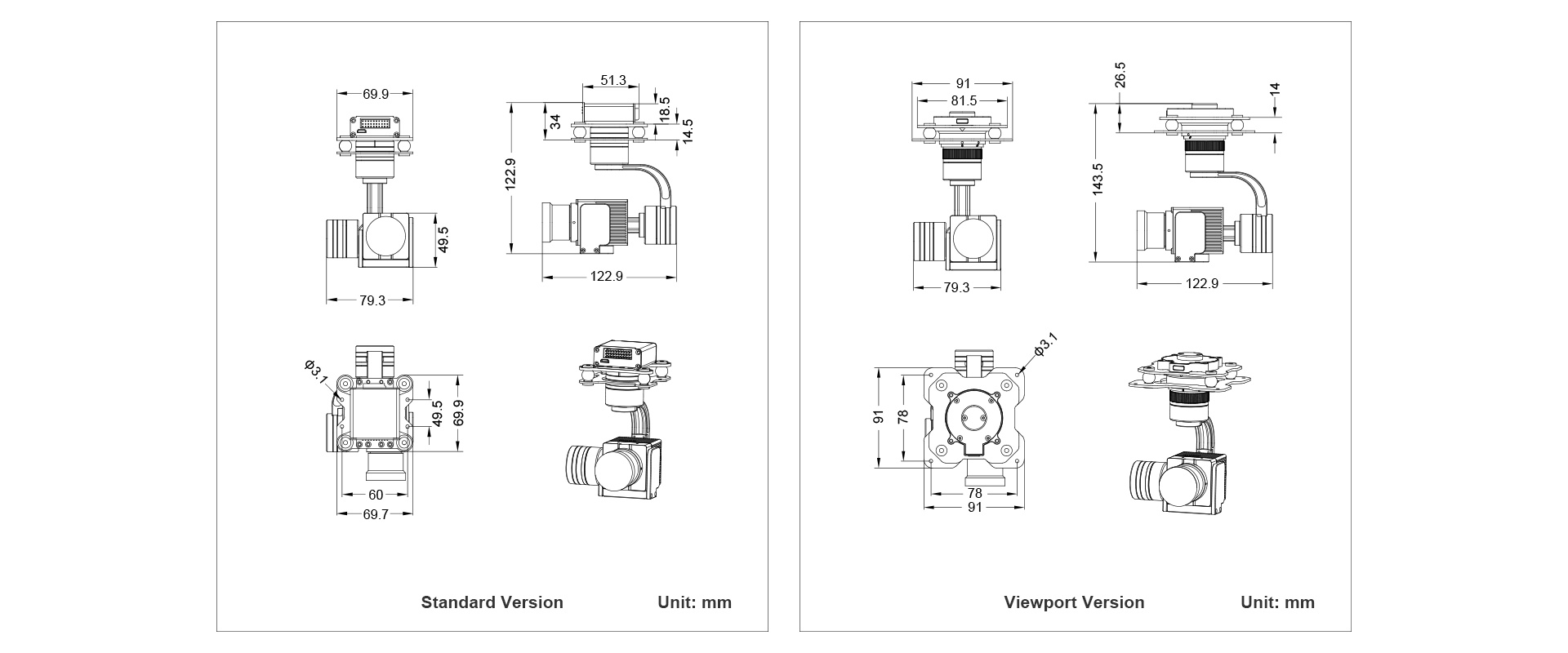 Specification
Hardware Parameter
Working voltage
12V ~ 16V
Input voltage
3S ~ 4S
Dynamic current
500mA @ 12V
Idle current
400mA @ 12V
Power consumption
≤ 3.85W
Working environment temp.
-20℃ ~ +50℃
Output
micro HDMI(HD output 1080P 60fps) / IP
Local-storage
SD card (Up to 128G, class 10, FAT32 or ex FAT format)
Control method
PWM / TTL / S.BUS / TCP
Gimbal Spec
Pitch/Tilt
±90°
Roll
±85°
Yaw/Pan
±145°/360°*N(IP output version)
Vibration angle
Pitch/Roll: ±0.01°, Yaw:±0.01°
One-key to center
√
Thermal Imager Spec
Lens size
25mm
Horizontal FOV
24.6°
Vertical FOV
18.5°
Diagonal FOV
30.4°
Detective Distance (Man: 1.8x0.5m)
735meters
Recognize Distance (Man: 1.8x0.5m)
184 meters
Verified Distance (Man: 1.8x0.5m)
92 meters
Detective Distance (Car: 4.2x1.8m)
2255 meters
Recognize Distance (Car: 4.2x1.8m)
564 meters
Verified Distance (Car: 4.2x1.8m)
282 meters
Working mode
Uncooled long wave (8μm~14μm) thermal imager
Detector pixel
640*480
Pixel size
17μm
Focusing method
Athermal prime lens
Emissivity correction
0.01~1
NETD
≤50mK (@25℃)
MRTD
≤650mK (@characteristic frequency)
Image enhancement
Auto adjust image brightness and contrast ratio
Color palette
White, iron red, pseudo color
Auto Non-uniform correction
Yes (no shutter)
Digital zoom
1x ~ 4x
Sync correct time
Yes
Thermometry type
Temperature bar (psudo color display) max temp,
min temp, FOV center temp (Optional)
Temperature warning
0℃~100℃
Packing Information
N.W.
410g
Product meas.
80*114*123mm