L4 Searchlight features 2-axis stabilized gimbal with 4 pcs LED illuminating system, luminous flux is up to 4000lm, light can be switched on/off with remote controller. Integrated aluminium alloy housing with built-in cooling fan are optimized for heat dissipation and anti-interference. Vibration is eliminated using four damping balls and a lightweight damping board. 300° rotation remains possible through gimbal rotation. It has an operating range of up to 150m and can be easily integrated onto open source UAV platform, lighting the space at night or in utter poor light environment for users in night surveillance, emergency response/search and rescue, firefighting……

Professional 2-axis High-precise FOC Program
Stabilizing the searchlight is a highly optimized 2-axis gimbal with pinpoint-precise motor rotation with a control accuracy of ±0.02° powered by a dedicated processor.
Multi Control Methods
Defualt PWM and Serial port TTL control, SBUS is optional.
Control box signal interfaces:

Compatible with Viewport
Searchlight is compatible with Viewpro quick release connector Viewport. Viewport is an option known as easy assembly, plug and play.

For more information about Viewport, please check below video instruction:
Applications
Mainly supply in public safety, firefighting, law enforcement, search and rescue, infrastructure/facility repair and maintennance etc.

Dimensions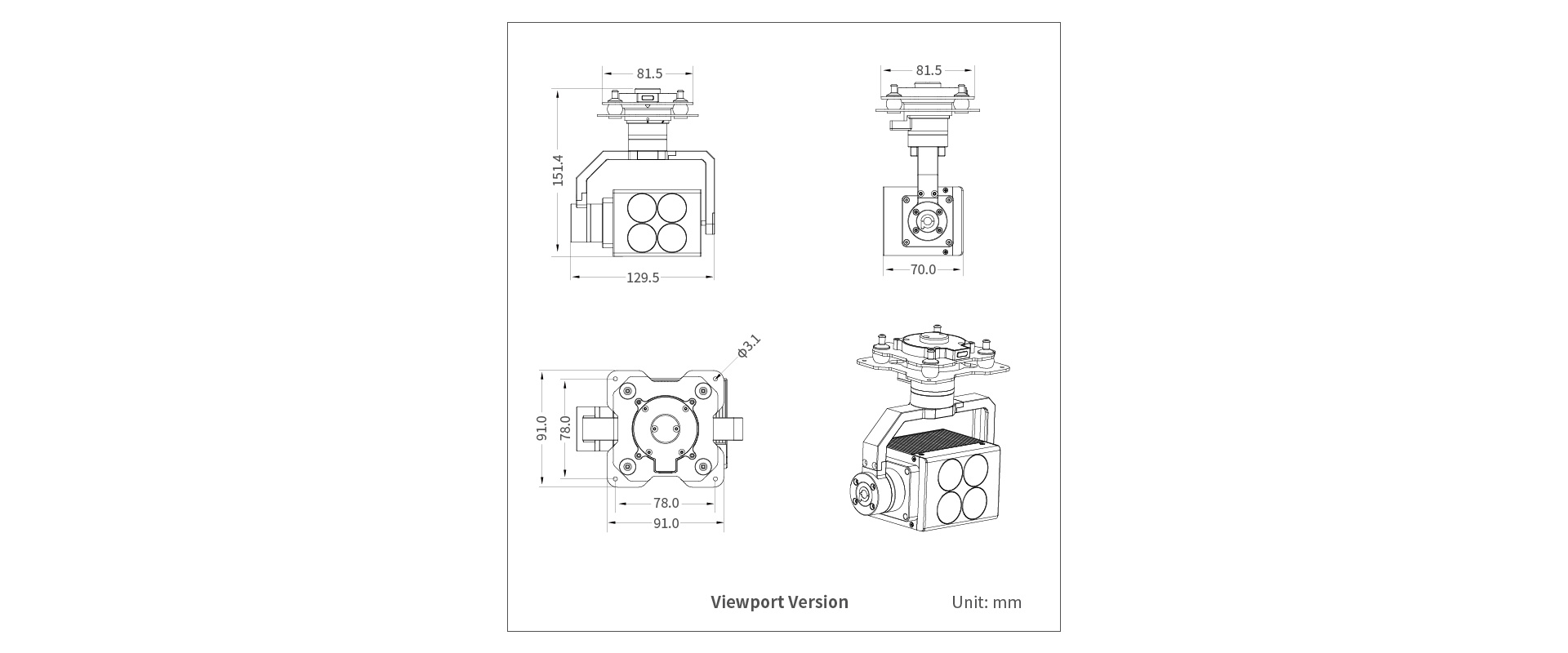 Hardware Parameter
Gimble Working voltage
4S~6S
Searchlight Working voltage
17V
Output voltage
5V (connect with PWM)
Dynamic current
3000mA@17V
Working environment temp.
-20℃ ~ +60℃
Control method
PWM / TTL / S.BUS
Gimble Spec
Mechanical Range
Pitch: -30°~230°, Yaw: ±300°
Controllable Range
Pitch: -25°~90°, Yaw: ±290°
Vibration Angle
Pitch: ±0.02°, Yaw:±0.02°
One-key to center
√
Searchlight Spec
Luminous Flux
4000 lm
Color Temperature CCT
6940K
Color Render Index(Ra/CRI)
72.3
FOV
8°
Light range
150m
Area
346㎡ @150m flight height
Power
38W
Packing Information
N.W.
630g(Viewport version)
Product meas.
129.5*70*151.4mm(Viewport version)