Distance is the soul of Beauty
A HD Video Transmission System, using PineSync technology based on S1 processor. lt is an easy-to-use device for sending HDMl video and audio signals, at an affordable pricing.
Smooth signal transmission over long distances
Signal transmission range up to 20KM; With minimum latency 110ms; Two HDMI inputs; Supports 720p 30fps, 1080p 30fps / 60fps video format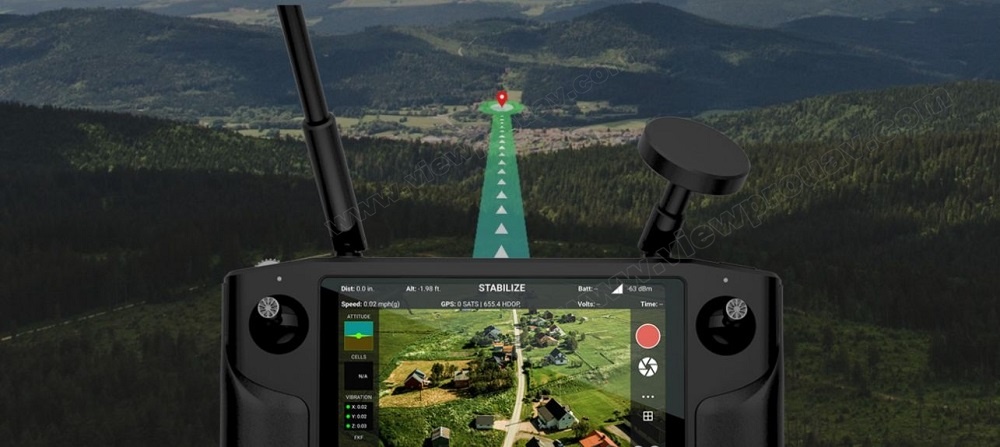 Powerful image processing capabilities
Eight-core high-performance processor S1 built-in in the air unit and controller,ensures stronger and faster data computing capabilities. Built-in powerful video image analysis GPU, 4-core Mali-T860.

QGC and Solex app support
The customized Solex and QGC Ground Control Station (GCS) software has perfect MAVlink support for Ardupilot and PX4.You can choose the GCS according to your own needs, making the system flexible to your needs.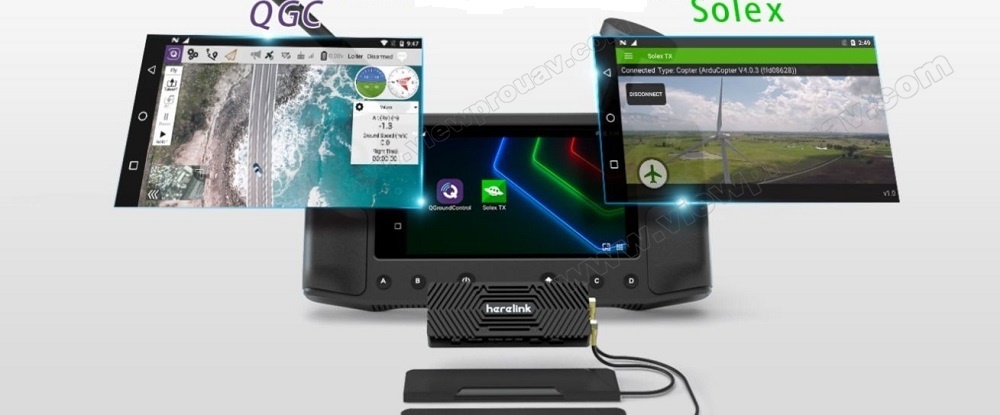 Herelink supports the installation of AN OEM image, allowing you to customize your Settings to change, including boot animation changes, system configuration changes,Android application changes, nd Android property changes. Please con tact our sales teanivia your currentre- seller for OEM support.

Over The Air (OTA)updates support
Herelink can update OTA via WIFI connection in the application. Compared with downloading the whole firmware package, OTA upgrade only needs to download part of the update package, which is faster to download, install and upgrade, and greatly improves the efficiency of use.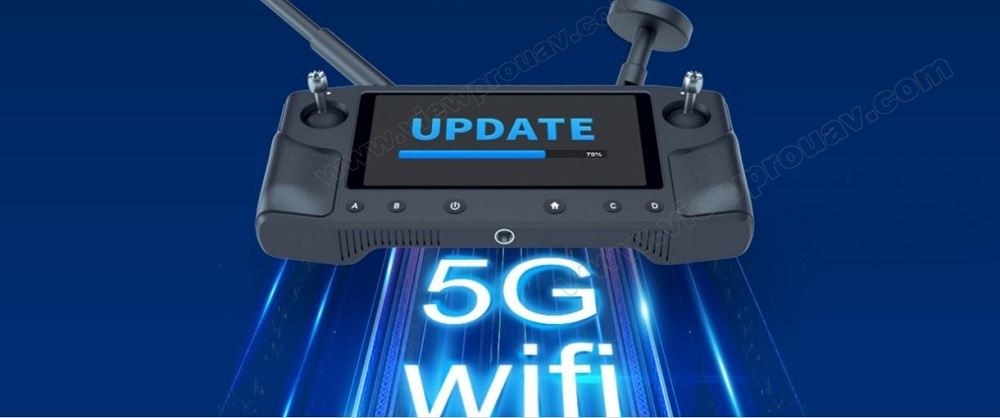 Integrates data link unit, remote control link and video display unit into a single device. Making the complex device system integrated and miniaturized.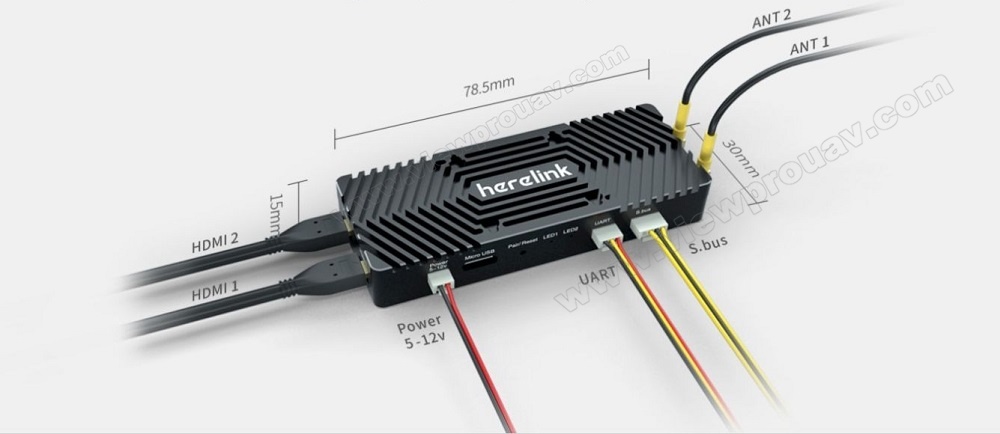 Hardware specification
Processor
SoC – Pinecone S1
AP: 4 x large core, Cortex A53, 2.2GHz
4 x small core, Cortex A53, 1.4GHz
GPU: 4 core, Mali-T860
SDR: A7 + DSP
Storage
Air Unit LPDDR3 1GB
Controller LPDDR3 2GB
Air Unit/Controller
EMMC 4GB
Transmission Range
FCC 20km CE/SRRC 12km
Latency
Min 110ms
Resolution
720p@30fps, 1080p@30/60fps
Frequency Band
2.4GHz ISM
Receive sensitivity
-99dBm@20MHz BW
Interference recovery
< 1s
Air Unit
Housing
Aluminum
Weight
95g (w. antennas)
Dimension
78.5x30x15mm (w/o antennas)
Signal Bandwidth
20MHz/10MHz
Power Consumption
< 4W
HDMI 1
Micro HDMI, for video input (preferred)
HDMI 2
Micro HDMI, for video input
Power
Recommended supply voltage ~7V, minimum 6V, maximum 12V and avoid sharing BEC with servos
Micro USB
For debug or upgrade, support OTG
Pair/Reset
For pairing and reset
LED 1, 2
To indicate pairing status and transmission status
UART
3.3V / 5V UART
S.bus
Two 3.3V RC output
ANT 1, 2
MMCX, for signal transmission and communication
Controller
Housing
Plastic
Weight
516g (w. antennas)
Dimension
217×106.5x31mm (w/o antennas, joysticks )
Screen
5.46 inch, 1080P, 16 million colors,
capacitive touch screen
Audio
1 x built-in speaker, 2 x built-in microphone
Remote control
2 x joystick, 1 x wheel,
6 x button (w. blacklight), 1 x upper right button
Communication
WIFI/GPS 2.4GHz on the controller side
LED
2 x tricolor LED (left, right)
Interface
1 x MicroUSB, 1 x Micro SD card slot
(extendable to max. 64GB)
Antenna
1 x detachable directional (5dBi),
1 x detachable omni-directional (2dBi),
built-in WIFI antenna, built-in GPS antenna,
external GPS antenna interface
Power
4950mAh built-in Lipo Battery
Charging
Support micro USB 5V 2A charging
Power consumption
< 4W average (With transmission on, medium screen brightness, WIFI off, GPS off)