Ultra Power UP600+ Dual Channels 2-6S LiPo LiHV Charger
Features
1. Support charging 2pcs of 2-6S LiPO/LiHV batteries. 2. Independent radio battery connection port, support charge 2-3S radio battery. (only one radio battery can be charged one time) 3. Charging current is adjustable: 5A/10A/15A/20A/25A 4. Two work mode option: Balance charge mode, Storage mode. 5. Memorizing last charging current. 6. Multiple protection function: over-voltage, over-current, reverse polarity, and over-temperature protection.
Product Details
Input Voltage: AC 110V or 220V Charge Output Power: Max. 1200W (600W x2) Discharge Power: Max. 80W (40W x2) Charge Current: 5A/10A/15A/20A/25A Balance Current: 1.5A/cell Battery Type: LiPo/LiHV Battery Cell Count: 2-6S (also can charge 2-3s radio battery) Work Mode: Charge /Storage Dimension: 268*140*127mm Net Weight: 3.1kg
Item Packing
UP600+ Charger x 1 XH Adaptor Board x 2 Power Cord x 1 Manual x 1
Detailed Images
Maintain the battery to extend the battery life
Under Storage mode, the battery can be charged/discharged the cell voltage to 3.80V, when the battery voltage is higher than 3.80V per cell, the charger will discharge the battery. On the oppsition,when the battery voltage is lower than 3.8oV per cell the charger will charge the battery.
Widely apply to various field
Agriculture drone, industrial drone, other UAV drones
Like 6S 16000mAh,2200mAh LiPo/LiHV battery
2pcs 6S LiPo/LiHV batteries charged/discharged at the same time, good helper for big capacity battery.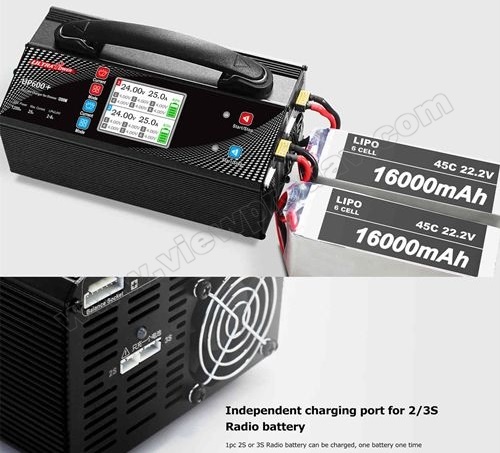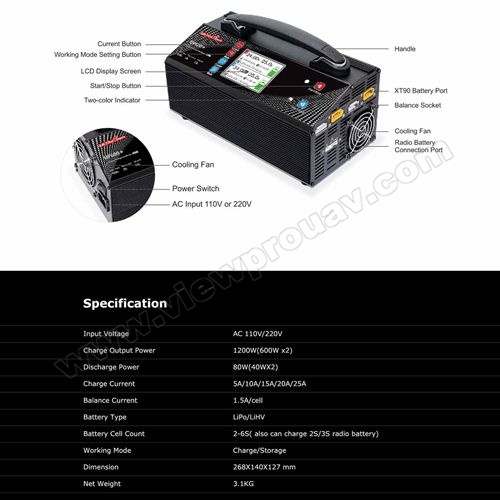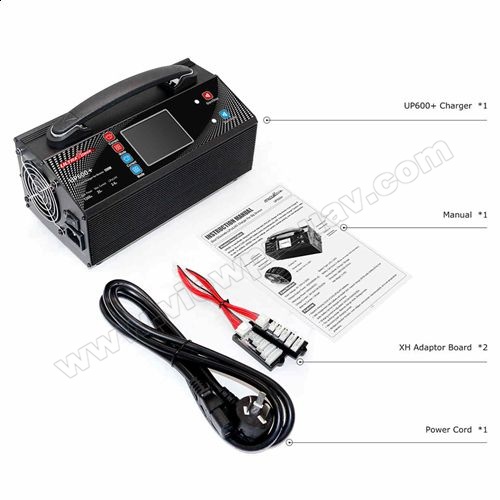 | | |
| --- | --- |
| Product name | UAV Charger UP600+ Two Channels with display screen |
| Input voltage | AC 110V or 220V |
| Charge power | 1200W(2x600W) |
| Charge current range | 5A/10A/15A/20A/25A |
| Battery type | LiPo/LiHV |
| Battery cell count | 2-6S |
| Working mode | Charge mode / Storage mode |
| Balance current | 1.5A/cell |
| Net Weight | 3.1KG |
| Dimensions | 268X140X127 mm |