Professional 3-axis High-precise FOC Program
The Z10F is a gimbal designed for 10X zoom camera for drone aerial inspection,surveillance,search and rescue mission.It consists of HD 10X optical zooming camera and a 3-axis high stabilized gimbal, which is able to take and record 1080p 30fps video to an on board TF card, giving you a stable eye in the sky that can be controlled via drone pilot or a secondary individual allowing for an overhead view that can cover a large amount of ground quickly and effectively. The 10X zoom function will allow you to remain at a distance yet zoom closely in on anything that requires your attention.

Z10F gimbal and camera features an 10x optical zoom lens. It powered by 1/3 SENSOR CMOS module, supports approx.4 million effective pixels, with Color 0.05lux@F 1.6 ultra-low illumination, can still clearly display image features in the poor light environment, and has a wide dynamic range of 105dB. In the presence of backlight or strong light, the view of the over bright and over dark regions can sill be captured at the same time. Z10F has 4 Mega effective pixels, supports 10x optical qutofocus, and HD 1080P video recording. Design for UAV aerial photography, according to aerial characteristics, using fast focus algorithm, focus time <1s.

Multi Output Methods Optional

The Z10F support HDMI and AV output. HDMI is 1080P and AV output is 720p.
Defualt PWM and Serial port TTL control. Sbus is optional. With Viewpro software Viewlink you can fulfill TTL control.

Control box signal interfaces:

Z10F have been widely used in various fields like public security, electric power, fire, zoom aerial photography and other industries in the application of drones.

Z10F is compatible with Viewpro quick release connector Viewport. Viewport is an option known as easy assembly, plug and play.

Dimensions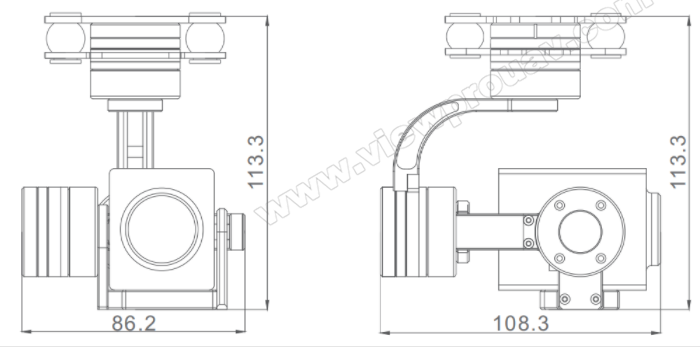 Hardware Parameter
Working voltage
12V
Input voltage
3S ~ 4S
Output voltage
5V (connect with PWM)
Dynamic current
320mA @ 12V
Idle current
240mA @ 12V
Power consumption
3.85W
Working environment temp.
-20℃ ~ +50℃
Output
micro HDMI(HD output 1080P 60fps) / Analog
Local-storage
SD card (Up to 32G, class 10, FAT32 or ex FAT format)
Control method
PWM / TTL
Gimbal Spec
Pitch/Tilt
±90°
Roll
±45°
Yaw/Pan
±150°
Vibration angle
Pitch/Roll: ±0.02°, Yaw:±0.03°
One-key to center
√
Camera Spec
Imager Sensor
1/3inch CMOS
Total pixel
4MP
Effective pixel
2688*1520
Dynamic range
65dB
Lens
5MP
Optical zoom
10x, F=4.9~49mm
Min object distance
1.5M
Viewing angle
Horizontal: 53.2°(Wide end) ~ 5.65°(Tele end)
Vertical: 39.8°(wide end) ~ 4.2°(tele end)
Focus: 66.6°(wide end) ~ 7.2°(tele end)
Sync system
Progressive scanning
Local video
1080P 30fps local TF card
HD output
1080P/720/480P 60fps HDMI1.4
AV output
Standard CVBS 1Vp-p
S/N ratio
38dB
Min illumination
Color 0.05lux@F1.6
Backlight compensation
Backlight compensation/strong light inhibition
Gain
Auto
White balance
Auto/Manual
Shutter speed
Auto
Control system
UART/IR/PWM
Communication protocol
PELCO-D, Hitachi protocol or VISCA
Focus
Auto/Manual/One-time automatic focus
Focus speed
2s
Lens initialization
Built-in
User presetting bit
20 sets
Image rotation
180°, Horizontal/Vertical mirror image
OSD
Not support
Object Tracking(Optional)
Update rate of deviation pixel
50Hz
Output delay of deviation pixel
<15ms
Minimum object contrast
5%
SNR
4
Minimum object size
16*16 pixel
Maximum object size
160*160 pixel
Tracking speed
±32 pixel/frame
Object memory time
4s
The mean square root values of pulse noise in the object position
< 0.5 pixel
Packing Information
N.W.
395g
Product meas.
86.2*108.3*113.3mm
Accessories
1pc gimbal camera device, 16pcs screws / Hight quality cardboard box with foam coushion
Package meas.
86.2*108.3*113.3mm